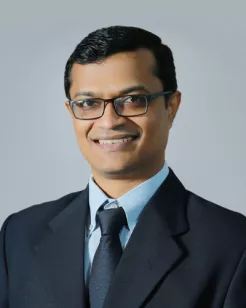 Dr. Shejoy P Joshua
Consultant - Neurosurgery
MCh in Neurosurgery, MS in General Surgery, DNB in General Surgery, MBBS
Overview
A Neurosurgeon with more than 8 years of experience, Dr Shejoy Joshua, is an expert in Minimally invasive Endoscopic neurosurgery and Neurotrauma. Trained at some of the finest medical institutes in India and Japan, he specialises in the surgical management of complex brain disorders in adults and children. Dr Joshua has extensive experience in the management of Traumatic Brain and spine injuries. He also has experience in complex skull-base surgery, vascular surgery and neuro-oncology. He has completed the Fellowship program in Neuroendoscopic surgery. He has also completed the American College of Surgeons - Advanced Trauma Life Support (ATLS) and the Emergency Neurological Life support (ENLS) training, which are the basis of specialised trauma care. He is also trained in Endoscopic surgery and Magnetoencephalogram (MEG) from the Yamagata University, Japan. Worked as: Associate Consultant Neurosurgeon, Medical Trust Hospital, Kochi Senior Research Officer, Epilepsy Research, All India Institute of Medical Sciences, New Delhi. Senior Resident Neurotrauma, JPN Apex trauma Centre, All India Institute of Medical Sciences, New Delhi. Registar Neurosurgery, Wockhardt Hospitals, Bangalore. Clinical Assistant Professor Neurosurgery, Amrita Institute of Medical sciences, Kochi.
Area of expertise
Awake craniotomy for surgery of eloquent lesions
Arachnoid cysts
Brain tumours
Chiari malformation
Craniopharyngiomas
Congenital malformations of the brain and spine
Epilepsy surgery
Hydrocephalus| including endoscopic third ventriculostomy
Inflammatory/Infectious processes of the brain and spine (e.g. brain abscess)
Minimally invasive endoscopic techniques
Neural tube disorders (spina bifida| syringomyelia| tethered cord| etc.)
Orbital tumours- endoscopic surgery
Pituitary tumours- endoscopic surgery
Skeletal dysplasia
Spinal cord tumours
Stroke - endoscopic surgery for clot evacuation
Traumatic brain and spinal injuries
Vascular abnormalities| including moyamoya and pediatric aneurysm
Stereotactic surgery
Intraoperative mapping to preserve normal brain function
Awards and recognitions
Fellowship program in Neuroendoscopy (Brain and spine) from NSCB| India
Advanced Trauma Life Support (ATLS) by the American College of Surgeons Committee on Trauma
Emergency Neurological Life support (ENLS) course by the Neurocritical care society
Endoscopic Training at the Yamagata University Faculty of Medicine| Yamagata| Japan.
Intercollegiate Member of the Royal College of Surgeons (MRCS)
Dr. A.K. Banerjee Best Paper Award in Neurotrauma (Trauma 2008)
Hindustan-CIBA Giegy Award for best paper in Epilepsy (Neurological society of India 2011)
Pope Paul Award for Academic Excellence (St. John's Medical College, Bangalore)
Best Research Paper Award (St. John's Medical College, Bangalore)
Published 10 research articles in peer reviewed national and international journals
Member of the Neurological Society of India (NSI)
Member of the Neurotrauma Society of India (NTSI)
Member of the Neurological Surgeons Society of India (NSSI)
Member of Indian Society of Trauma and acute care (ISTAC)
Member of the Indian Medical Association (IMA)
Member of the Skull base surgeons society of India (SBSSI)
Faculty at several national and international neurosurgical conferences / CMEs.