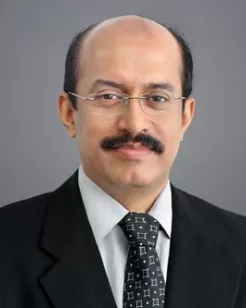 Dr. Rajiv C
Senior Consultant - Interventional Cardiology
Overview
Dr. Rajiv C. is a well-known cardiologist with an experience of over 26 years in the field of Interventional Cardiology. He completed his MBBS from TD Medical College, Alappuzha, and went to pursue his MD in Internal Medicine from Government Medical College, Kottayam. With a special interest in the management of cardiovascular diseases, he did his DM in Cardiology from Sree Chitra Tirunal Institute for Medical Sciences. Dr Rajiv completed his one-year commonwealth fellowship in 2004 by the British Council (UK) under the guidance of Prof. Alan G. Fraser in the Wales Heart Research Institute and University Hospital of Wales. He also obtained accreditation of the European Association of Echocardiography in 2006. Further, he had multiple trainings in 3-D ECHO in 2009 in Hongkong; IVUS and rotablation in 2010 in Miyasaki, Japan; renal denervation in Frankfurt, Germany in 2013 and percutaneous aortic valve replacement in Switzerland in 2013.
Dr Rajiv has performed over 20,000 coronary angiograms (femoral/radial) and over 7,500 angioplasties including complex coronary angioplasties involving left main, complex bifurcations, calcified coronary lesions, chronic total occlusions and bypass graft angioplasties. He is also adept at coronary imaging (IVUS-intravascular ultrasound & OCT- Optical Coherence Tomography), and fractional flow reserve and rotablation and IVL (Intravascular Lithotripsy) for calcified coronary lesions. He has been instrumental in the expansion of the aortic stent programme at Amirta Hospital Kochi started by its first chairman late Prof. K.K. Haridas. Dr Rajiv also performs stent grafting and hybrid cardiac procedures routinely.
 
Area of expertise
Echocardiography (both trans thoracic and 3D trans esophageal) using advanced techniques
Complex coronary interventions in both native and bypass graft vessels
Use of coronary imaging (IVUS-intravascular ultrasound & OCT- Optical Coherence Tomography).
Fractional flow reserve
Rotablation and IVL for calcified coronary lesions
Peripheral angioplasty and stenting including carotid, renal and iliofemoral
Complex Aortic Interventions
Aortic stent grafting for aortic aneurysms and aortic dissections
Hybrid procedures for aneurysms involving the aortic arch
Percutaneous aortic valve replacement, TAVI
Device closure of adult ASDs
Device closure of post myocardial infarction ventricular septal rupture
Coil closure of arteriovenous fistula
 
Awards and recognitions
Dr. Rajiv has published many papers in the Indian Heart Journal and international journals such as Current Opinion in Cardiology and Journal of Clinical Endocrinology and Metabolism. He is also a regular speaker in many of the national conferences and has lectured in international conferences. Prior to joining Aster Medcity Kochi, Dr Rajiv was professor in cardiology in Amrita Hospital Kochi.