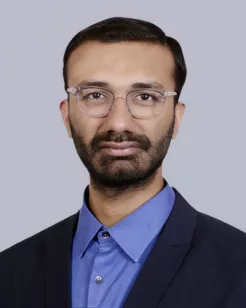 Dr. Varun P Bhatia
Consultant - Interventional Cardiologist & Structural Heart Specialist
MBBS, MD, DM  (Cardiology), Fellowship (Trans-Catheter Valve And Structural Heart Interventions)
Overview
Dr. Varun P Bhatia is an Interventional Cardiologist with an overall experience of over 5 years in Cardiology. He specializes in Trans-Catheter Valvular Interventions and Structural Heart Interventions. Dr. Varun completed his MBBS from Seth GS Medical College and KEM Hospital, Mumbai and his MD in General Medicine from Government Medical College, Surat. With the special interest in cardiology, he further completed his DM from Lokmanya Tilak Municipal Medical College and Hospital, Mumbai. Further Dr. Varun also received fellowship in Trans-Catheter Valve and Structural Heart Interventions from Gottsegan National Cardiovascular Centre, Budapest, Hungary and also underwent training in Trans-Catheter Valve Interventions from Clinique Pasteur, Toulouse, France. Both hospitals in Budapest and Toulouse are very high volume centers for Trans-Catheter Valve and Structural Heart Intervention in Europe.
Dr. Varun's special areas of expertise includes Complex Coronary Interventions and Structural Heart Interventions such as TAVI/TAVR, MITRA CLIP, ASD Closure, PFO Closure, TMVR, and Left Atrial Appendage Closures. He has also been publishing research articles in journals of national and international repute routinely.
Area of expertise
Structural heart interventions: 
TAVI /TAVR
MitraClip
ASD closure
PFO closure
TMVR
Left atrial appendage (LAA) closure
Complex Coronary Intervention
Awards and recognitions
Research Publications:
• Deshpande Ms, Phadke Ms, Bhatia Vp, Mankame Pr, Burkule Nj, Khan Mt, Mahajan Au, Nathani Pj. Strain Reversus : A Diagnostic Regional Myocardial Left Ventricular Longitudinal Strain Pattern In Tuberculous Constrictive Pericarditis On Two-Dimensional Speckle Tracking Echocardiography. Journal Of The Indian Academy Of Echocardiography & Cardiovascular Imaging. 2021 Jan 1;5(1):10.
• Mahajan Au, Bhatia V. Marker Wire Technique For Precise Lad Ostium Stenting. Cardiology And Angiology : An International Journal. 2020 Nov 26:57-60.
• Shomu Bohora, Zeeshan Mumtaz, Milind Phadke, Vishnu Bhute, Varun Bhatia, Amit Vora, Ajay Naik, Ashish Nabar, Bhavin Jankharia, Pradeep Vaideeswar, Gopi Panicker, Ujwal Bhure, Yash Lokhandwala, Long-Term, Real World Experience Of Ventricular Tachycardia And Granulomatous Cardiomyopathy, Indian Pacing And Electrophysiology Journal, 2022.
• Varun Bhatia, Mrunmayee Deshpande,Sharvari Mahajan, Ajay U. Mahajan,J Ayant Khandekar, Pratap J. Nathani, International Journal Of Scientific Research  : Volume 11 | Issue 9 | September 2022 : A Case Report Of Congenital Giant Left Atrial Appendage Aneurysm With Thrombus Presenting As Atrial Arrhythmia.
 
Book Chapters
• Chapter On Shone Complex In Book : Cases In Clinical Medicine Cardiology Sadanand Shetty And Milind Phadke (Editors). Tree Life Media 
 
Confrence Presentation
• Oral Paper Presentation At Csi Delhi 2019 : Long Term Outcomes Of Granulomatous Cardiomyopathy Preenting As Cardiac Arrhytmia.
• Poster Presentation At Iracon 2016: Sle -The Great Imitator.