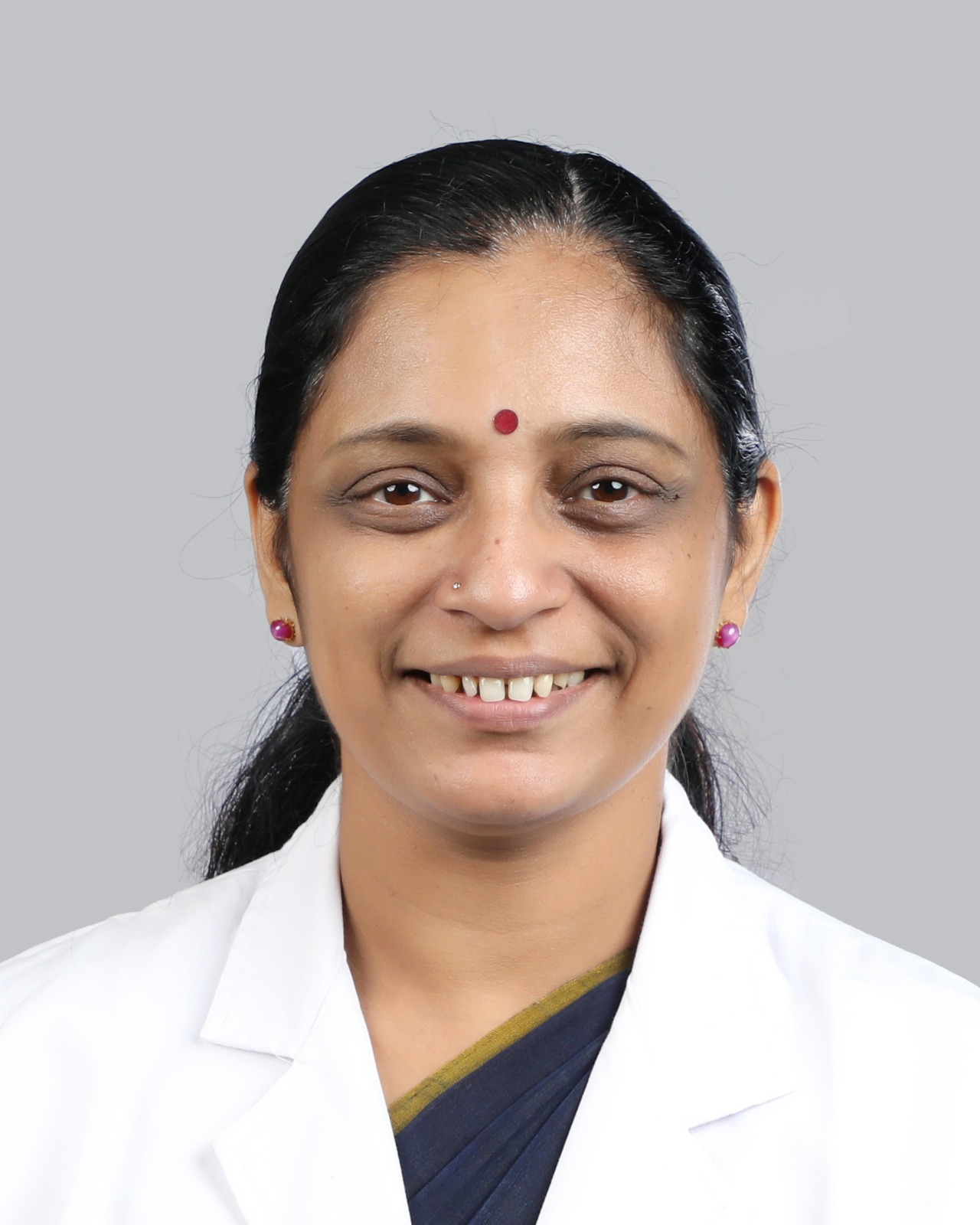 Dr. Renu P Kurup
Senior Consultant & HOD - Paediatric Cardiology
DCH, DNB (Paediatrics), FNB (Paediatric Cardiology)
Overview
Dr. Renu is currently working as a Senior Consultant in Pediatric Cardiology at the best cardiology hospital in Calicut -  ASTER MIMS. She has a vast clinical experience of 14 years in paediatric cardiology. She gained her Bachelor of Medicine and Bachelor of Surgery(MBBS) from T.D Medical College, Alappuzha, Kerala. She did DCH (Paediatrics) from Kasturba Medical College, Mangalore and Diplomate of National Board (DNB) in Pediatrics from Medical College, Trivandrum, Kerala. She has done a fellowship of national board (FNB) in Paediatric Cardiology, from Amritha Institute of Medical Sciences, Cochin, and a Fellowship in Paediatric Cardiology from Madras Medical Mission Hospital, Chennai.
Her technical skills and areas of clinical expertise include diagnosis and management of congenital and acquired heart disease in children. Her areas of interest are diagnostic and interventional cardiac catheterization, diagnosis and management of fetal arrhythmias and prenatal diagnosis of critical congenital heart disease.
Area of expertise
Echocardiography: transthoracic, transesophageal and fetal

Pediatric interventional cardiac catheterization

Pediatric cardiac intensive care

Fetalechocardiography
Awards and recognitions
Best Poster Award - National Conference of Paediatric Cardiac Society of India, Delhi in 2006.
Membership
Life Member, Indian Medical Association.

Life Member, Indian Academy of Paediatrics.

Life member: Paediatric Cardiac Society of India

Travancore-Cochin Medical Council
Paper and Publication
Outcome of Single Ventricle and Total Anomalous Pulmonary Venous Connection

: Asian Cardiovascular and Thoracic Annals October 2006 14 3A7470, Manvinder S, Pradyumna K Jena,

Renu P Kurup

, Roy Varghese, R Suresh Kumar, and Robert Coelho

Cardiogenic shock in Children

;

Renu P Kurup

, Krishnakumar R; Indian Journal of Practical Paediatrics; 2006; 8(1): 61-73.

Anomalous origan of left coronary artery from pulmonary artery in infancy with preserved left ventricular function

. Case Report. Renu. P. Kurup, Rachel Daniel, Kinjal Bakshi, R. Krishna Kumar. Ann Pediatr Cardiol. 2008 Jan-Jun; 1(1):65-67.

Extensive Mongolian spots as a clue ln GM1 gandliosidosis

: Report of two cases : Sunitha Vaidyanathan,

Renu P. Kurup

, Amith Kumar, Sheela Nampoothiri J Pediatr Neurol 2009; 07(04): 411-414

Characterization of a distinct lethal arteriopathy syndrome in twenty-two infants associated with an identical, novel mutation in FBLN4 gene, confirms fibulin-4 as a critical determinant of human vascular elastogenesis

. Mahesh Kappanayil, Sheela Nampoothiri, Rajesh Kannan, Marjolijn Renard, Paul Coucke, Fransiska Malfait, Swapna Menon, Hiran K Ravindran,

Renu Kurup

, Muhammad FaiyazUl-Haque, Krishna Kumar and Anne De Paepe .Orphanet Journal of Rare Diseases 2012 7:6L.

Naxos Disease and Carvajal Variant

. Anooja Abdul Salam, KS Remadevi and

Renu P Kurup

 Indian Pediatr. 2013 Jun 8;50(6):596-8..

Author of a chapter and co-editor of the book: Pediatric ECG , Author : Dr Santhosh Kumar(Paras Publications )