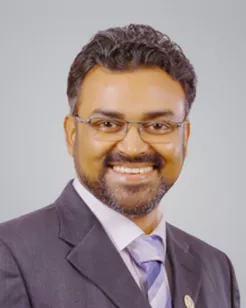 Dr. Shafeeq Mattummal
Senior Consultant and HOD - Cardiology
MD, DM, FESC, FSCAI, FACC, Fellowship In Interventional Cardiology (Bern, Switzerland)
Overview
Dr. Shafeeq Mattummal serves as Chief Cardiologist and Senior Consultant in Interventional Cardiology in Aster MIMS, Kozhikode. A pioneer in the field in Interventional Cardiology, Dr. Shafeeq Mattummal comes with over 17 years of vast experience in cutting edge heart treatments without open heart surgery in North Kerala. Before moving to Europe for fellowship, he got extensive training in Internal Medicine and Cardiology from various prestigious institutes in India. He got trained in Structural Interventions from the University of Bern, Switzerland, under world renowned cardiologist Prof Bernhard Meier. He has performed the first TAVI in North Kerala in 2017 in Aster MIMS, was operational in developing new valve therapies in Kerala, and is currently one of the most renowned TAVI operators in the country. His area of interest is Complex Coronary Angioplasty, Structural, Adult congenital and Valvular Interventions including Transcatheter Aortic Valve Implantation (TAVI), Device closures, and Aortic therapies like EVAR, TEVAR, fenestrated EVAR etc.
Dr. Shafeeq Mattummal finished MBBS from Calicut Medical College in1997. He completed MD (Internal Medicine) from Grant Medical College & JJ Hospitals in Mumbai in 2002. Later he Finished DM (Cardiology) from the prestigious King Edward VII Memorial (KEM) Hospital & Seth GS Medical College, Mumbai in 2006. He did Fellowship in Interventional Cardiology from Inselspital, University of Bern, Switzerland in 2010, under world renowned cardiologist Prof Bernhard Meier who was member of the team which performed first ever Balloon Coronary Angioplasty in 1977. He had extensive training in Complex Coronary interventions (CTO), intracardiac shunt device closures, LA appendage closures in AF patients, Septal ablation for HOCM and Transcatheter Aortic Valve Implantation (TAVI) from there. He also got trained in TAVI by Prof. Alain Cribier, in Rouen, France who performed the first ever TAVI in the world, in 2002.
Area of expertise
Complex Coronary Angioplasty
Adult Congenital, Structural, Transcatheter Aortic Valve Implantation
Valvular Interventions
Services Delivered:
Dr Mattummal heads the largest team of interventional cardiologists in North Kerala, and together they perform one of highest volume of Coronary angioplasties, structural interventions, and electrophysiology proceduresin the region. The team serves cardiac patients from acrossthe state and also international patients from GCC and Asia Pacific countries.
CORONARY INTERVENTIONS:
 24/7 Primary angioplasty for Acute Myocardial Infarction
CHIP Procedures (Complex and high risk)- using Impella/ ECMO
 Complex coronary interventions including Left main Coronary (LMCA) Stenting, Coronary artery graft (Post CABG) Angioplasty, Bifurcation Angioplasty, Chronic total Occlusion (CTO) angioplasty.
 Intra coronary Imaging & Physiology assessment using FFR, iFR, IVUS and OCT- Making scientific decisions and upholding ethical practices.
Alcohol septal ablation for HOCM
Structural Interventions:
Detailed assessment, imaging and planning of patients for structural interventions through Heart team approach.
 TAVI. (Replacement of Aortic valve without surgery)
 Valve in Valve implantations for dysfunctional bioprostheses (Mitral, tricuspid, aortic and pulmonary positions)
 Percutaneous mitral repair with Mitral Clip device
 Percutaneous PFO closure, ASD closure and VSD closure
 Percutaneous Para valvular leak closure.
 LA Appendage device closure- For AF patients intolerant to anticoagulants.
 Balloon pericardiotomy.
 Interventional Treatment for Pulmonary Embolism & DVT.
 IVC Filter implantation and explantation • Endovascular Aortic Therapies (EVAR, TEVAR, Fenestrated EVAR/TEVAR)
Electrophysiology:
EP Radio frequency Ablation therapy for heart rhythm disorders like SVT, AF, VT and VF
3-D Mapping for complex arrhythmia detection and ablation.
Implantation of pacemaker, ICD and CRT devices.
Explanation or extraction of old devices.
Awards and recognitions
AFFILIATIONS:
Travancore-Cochin Medical Council. Reg No: 26270 Maharashtra Medical Council. European Society of Cardiology- Fellow (FESC) American College of Cardiology- Fellow- (FACC) Society for Cardiovascular Angiography and Interventions- Fellow (FSCAI) Cardiology Society of India (CSI): Life member Indian Medical Association (IMA): Life member