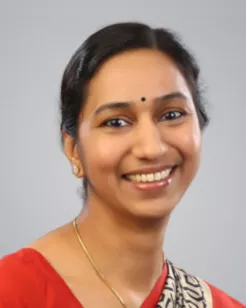 Dr. Remadevi K S
Senior Consultant - Pediatric Cardiology
MBBS, MD (Paediatrics) DCH, FNB (Paediatric Cardiology)
Overview
Dr. Remadevi K S earned her MBBS, Doctor of Medicine(MD) in Paediatrics, and Diploma in Child Health(DCH) from Government Medical College, Calicut. She then earned a Fellowship of the National Board in Paediatric Cardiology from Amritha Institute of Medical Sciences(AIMS), Kochi.
As a senior consultant, she brings to the table, her years of teaching experience as a senior lecturer at Thrissur Medical College and as an assistant professor of Paediatric cardiology at AIMS, Kochi, as well as a razor-sharp clinical acumen. She is involved in the comprehensive care of neonates and children with heart disease which includes transcatheter intervention at the best cardiology hospital in Calicut - Aster MIMs. Special areas of interest include fetal cardiology, cardiovascular genetics, and pulmonary hypertension.
Area of expertise
Genetics and heart disease
Fetal cardiology
Awards and recognitions
Paper Published
Remadevi KS. Vaidyanathan B. Francis E, Kannan BRJ. Kumar RK. Balloon

pulmonary valvotomy as interim palliation for young infants with Tetralogy of

Fallot. Ann Pediatr Card 2008; l( I )\:2-7.

Remadevi KS, Francis E, Kumar RK. Catheter closure of atrial septal defects

with deficient inferior vena cava rim under transesophagial echo guidance.

Catheterizations and cardiovascular interventions 2009;73:90-96

Salam AA, Remadevi KS, Kurup RP. Naxos Disease and Carvajal Variant.

Indian Pediatr 2013 Jun8;50(6):596-598

Choubey M, Ramakrishnan S, Sachdeva Sakshi, Mani M, Gangopadhyay D, et

al. Impact of COVID-19 pandemic on pediatric cardiac services in India.Ann

Pediatr Cardiol 2021 JulSep;14(3):260-268.

Remadevi K S. Double Outlet Right Ventricle. IAP Specialty Series On

Pediatric Cardiology, Third edition. Kumar RK, Prabhu SS, Jain S, Venkitesh

S, Ahamed MZ. Jaypee Brothers Medical Publishers (P) Ltd. Jan 2022

Principal Investigator for pediatric pulmonary hypertension in India Registry(Ped PHI registry): A multicentre cross sectional study, in Aster MIMs, Calicut.