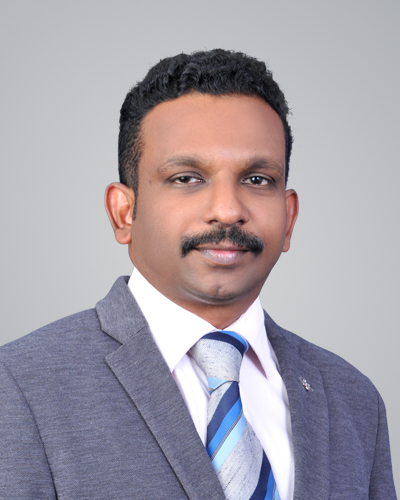 Dr. Aneesh Lakshmanan
Senior Consultant
Overview
Dr. Aneesh Lakshmanan is Senior Consultant Anaesthesiologist presently rendering his services at Aster MIMS, Kannur.
He is noted for his commitment to his patients as well as clinical practice and research.
The doctor is also renowned for his experience in Anaesthetic and ICU management of all types of adult critical, neurosurgical, transplants, Obstetrics & Gynaecological, Orthopaedics, Urology, Hepatobiliary, Colorectal, Bariatric, ENT and General surgical patients.
A keen academician, Dr. Aneesh Lakshmanan has worked at various medical colleges in India and Hamad medical Corporation,Qatar and have imparted his skills and knowledge in the field of Anesthesiology and Critical care.
A talented academician, the doctor has to his credit a number of publications and clinical presentations in his field of specialisation. The doctor's expertise also lies in Ultrasound guided regional Anaesthesia(USGRA), Critical care, Neuro Anaesthesia and Transplant Anaesthesia.
Area of expertise
Ultrasound guided regional Anaesthesia(USGRA)
Critical care
Neuro Anaesthesia
Transplant Anaesthesia