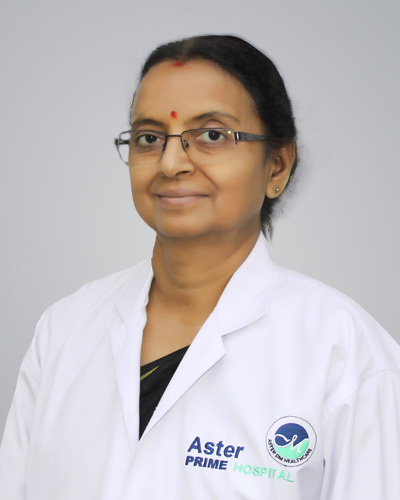 Dr. S P Vijayalakshmi
Senior Consultant Dermatologist
Overview
Dr. S.P. Vijayalakshmi has been working as a Dermatologist at Aster Prime hospital. She completed her MBBS from Osmania University, Hyderabad in October 1984.
Dr. S.P. Vijaylakshmi received her M.D. in Dermatology from NTR University of Health Science in the year 1996 with a Gold Medal.
Medical Associations
Indian Association of Dermatologists and Venereologists and Leprologists.
Indian Medical Association
Work Experience
Dr. S.P. Vijaylakshmi pursued her rotatory internship from December 1984 to December 1985 as Resident intern in internal medicine, General Surgery, Obstetrics & Gynaecology, Paediatrics, outpatient and Casualty Unit fever hospital for infectious diseases at Gandhi Hospital and affiliated hospitals under Osmania University.
Clinical Assistant in Dermatology at Nizam's Institute of medical sciences from 1st November 1997 to 31st March 2001.
Dr. S.P. Vijaylakshmi was an honoured consultant Dermatologist at NIMS from 1st April 2001 – 8th April 2004.
Assistant professor at the Department of Dermatology at NIMS from 21st April to 31st April.
Paper and Publications
Presented a case report on Lichen Sclerosis ET Atrophicus – at IADVLL conference – state chapter at Osmania Medical College Hyderabad 1998.
Presented a Case Report titled "Local Dermal Hypersensitivity to Dobutamine" at IADVLL, Andhra Pradesh state chapter conference 2004 held at Hyderabad.
Dr. S.P. Vijayalakshmi delivered a lecture on Diabetes and Skin diseases at NIMS, organised by the Diabetic self-care foundation 2006.
Presented a paper "Study of Etiology of viruses in Chronic Urticaria" from 2nd February to 5th February 2006 at 34th National Conference of Indian Association of Dermatologists, Venereologists and Leprologists, Hyderabad at DERMACON.
Delivered a lecture on "Medical Management of Vitiligo" at APSICON 2006 the 41st annual meeting of Association of Plastic Surgeons of India from 20th November–24th November 2006, Hyderabad.
Chaired a session on HIV and Skin diseases at the National CME on HIV, Hyderabad 2nd December 2006.
Delivered a lecture on Diabetes and Skin diseases at NIMS, Organised by Diabetic self-care foundation in 2007 & 2008.
Presented a paper titled "Psoriasis and Depression" on CUTICON AP Chapter held at Hyderabad, NOV 2008.
Attended CoSderm India & European Society of cosmetic and Aesthetic Dermatology conference held at Hyderabad, August 2009.
Attended Aesthetic LASER surgery Workshop held at Hyderabad 26th, June 2011.
Presented a paper titled "Study of risk factors for cardiovascular disease in patients of Psoriasis" at Andhra Pradesh CUTICON November 2012 held at Hyderabad.
Judge for poster presentation at AP CUTICON NOV 2012 held at Hyderabad.
Completed a CME activity titled "Psoriasis an update on management strategies ": Jan 2012 in the journal of the American Academy of Dermatology.
Delegate for CME at Third Annual introductory Course on Primary Immunodeficiency disorders at NIMS on 19th Oct 2014.
Attended a CME on "Photobiology, Photo Dermatoses & Sunscreens" at Hyderabad 9th November 2014.
Attended as a delegate at Telangana CUTICON -2015 at Hyderabad on 12th & 13th December 2015.
Attended as a delegate at 13th Annual conference of Association of Cutaneous surgeons at Kolkata 9th-11th April 2015.
Attended as delegate DERMACON conference at Mangalore 12th -15th February 2015.
Attended a CME on TSIADVL & SIG Tricology Hair Connect at Hyderabad on 21st June 2015.
Attended A CME on "Management of Psoriasis -An Update" Conducted, Hyderabad, 9th August 2015.
Participated in a workshop on Good Clinical Practice & Clinical Trials at ESIC Hyderabad 24th March 2018.
Participated as faculty at Telangana CUTICON 10th & 11th Dec 2016 held at Hyderabad.
Participated as Faculty at DERMAZONE South conference held at Hyderabad 16th- 18th Nov 2018.
A case report on Lichen Sclerosis ET Atrophicus - an unusual presentation: in Clinical Proceedings of NIMS, July 1997.
Published case report "Cutaneous Angiosarcoma presentation at an unusual Age". ln The clinical proceedings of Nizam Institute of Medical Sciences Vol 17 Number-3 Aug 2005.
Published a paper "Quiz - Erythematous plaque over the face". ln Indian Journal of Dermatology, Venereology, Leprology Nov-Dec 2006 Vol 72 ISSUE 6.