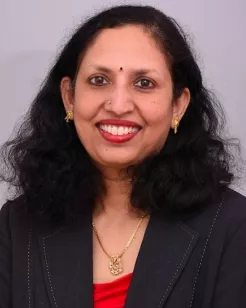 Dr. Sujatha Thyagarajan
Sr. Consultant – Paediatrics & Paediatric Intensive care
MBBS, DCH, MRCPCH, CCT in Paediatrics, FRCPCH
Overview
Dr. Sujatha Thyagarajan is a leading Paediatric Consultant at Aster RV and Aster Women & Children Hospital with more than 26 years of rich experience. She has extensive experience in the management of complex medical and surgical intensive care, critical trauma, neurosurgery, renal, (liver and intestinal) transplant, paediatric / neonatal surgical children, high-risk pregnancies including pre-term babies, retrieval/transport of critically ill children, renal replacement therapies, neuro-surgical, trauma, cardiac, hemato-oncological and bone marrow/solid organ transplantation cases and other advanced intensive care modalities.
She is the founder member, secretary & treasurer of PediSTARS India (Pediatric Simulation and Training Research Society) and Proprietor of I ACT FAST Kids since, Feb 2018. The latter is a training programme aimed at teaching parents and school staff to provide first aid to children.
Before relocating to India, she worked with premier institutions in UK like Sheffield Children's Hospital, Birmingham Children's Hospital, Addenbrooke's Hospital, Evelina Children's Hospital, Barts and The London Children's Hospital etc. In the last few years, she was associated with Rainbow Children's hospital, Columbia Asia, HCG and Manipal hospitals, Bangalore.
She is a multitalented and resourceful person, who tutors medical students (DNB, MRCPCH), delivers international level presentations, publishes research papers in peer-reviewed publications and is an esteemed faculty speaker at various national and international forums. She has previously set up and led various paediatric intensive care (PICU) and trauma services for children in both London and India.
She has led key research projects in Pediatric trauma and Pediatric critical care. She is the Primary Investigator for the ongoing TRIP study (Trauma Research in Pediatrics) which is a multi-centre study of all critically injured children in 2 cities – Chennai and Bengaluru.
She completed her graduation (MBBS) from Bangalore University and post-graduation, and other specialization namely DCH, MRCPCH, CCT in Paediatrics and FRCPCH respectively from UK.
Area of expertise
Paediatric complex medical and surgical intensive care

Paediatric critical trauma care

Paediatric transplant care

Paediatric / neonatal surgical care

Retrieval/transport of critically ill children
Awards and recognitions
Papers Published:
Conway JA, Kharayat P, Sanders RC Jr, et al. Ketamine Use for Tracheal Intubation in Critically Ill Children Is Associated With a Lower Occurrence of Adverse Hemodynamic Events [published online ahead of print, 2020 Apr 17]. 

Crit Care Med

. 2020;10.1097/CCM.0000000000004314. doi:10.1097/CCM.0000000000004314

Lee JH, Nuthall G, Ikeyama T, et al. Tracheal Intubation Practice and Safety Across International PICUs: A Report From National Emergency Airway Registry for Children. 

Pediatr Crit Care Med

. 2019;20(1):1‐8. doi:10.1097/PCC.0000000000001782

Thyagarajan S, Chirla D.

Pediatric trauma management in rural India – Avoid the time trap!

J Pediatr Crit Care. 2017; 4(1):81-84.

Thyagarajan S, Edmonds NJ. Hemorrhagic Shock in Pediatric Trauma. J Pediatr Crit Care. 2017;4(1):30-36.

Thyagarajan S, Misra A. Contextualising simulation in Emergency Medicine Department and Pediatric Intensive Care Unit in India. J Pediatr Crit Care. 2016; 3:44-50.

Shetty R, Thyagarajan S. Simulation in Pediatrics: Is it about time? Ann Card Anaesth, 2016; 19 (3), 505 -510

Shetty R, Thyagarajan S – Book Chapter "Simulation in Pediatrics" in Practical Approach to Pediatric Intensive Care, 2nd Edition

Thyagarajan S, Shetty R, SC Singhi – Book Chapter "Role of Simulation in Pediatrics", in Clinical Simulation in medicine, launched by Hon Health Minister, Dr. Harshvardhan at the launch of World Simulation Society, August 2014, New Delhi.

Shetty R, Thyagarajan S. Simulation in Pediatric Intensive Care in India: Is it about time? J Pediatr Crit Care, 2014; 1,16-23

S. Thyagarajan, PG Shanbhag, A. Raykar. The Truth of the False Membrane: A Case report. Pediscan Aug 2013.
R Hearn, M. Tecle, Sujatha Rajan, N Edmonds. Massive Transfusion in paediatric trauma, a single centre experience. Critical Care 2010, 14(Suppl 1):P379 
S Thyagarajan, A Chavan, A Al-Sabbagh, S Latifi, AW Kelsall. The provision of cardiology services in a non-cardiac PICU setting. Arch Dis Child 2010;95:1068

Luciano Silvestri, Durk F Zandstra, Hendrick KF van Saene, Andy J Petros,

Sujatha Thyagarajan

, Miguel A de la Cal and Corrado Thomann. Antifungal prophylaxis in critically ill patients.

Critical Care

2008, 12:420.