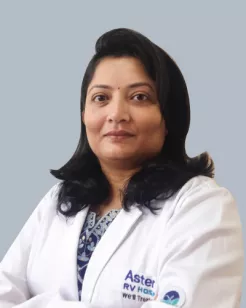 Dr. Sindhu M.V.
Consultant - Paediatrics & Paediatric Intensive Care
MBBS ,DCH, DNB, IDPCC( Pediatric Critical care)
Overview
Dr Sindhu.M.V.is an experienced Consultant Paediatrician and Paediatric Intensivist at AsterRV, Bangalore. She caters to sick children less than 18 years. At Aster RV Hospital, Dr Sindhu is available in the OPD for vaccination, General Paediatric consultation for problems such as cough and cold, fever, gastroenteritis, growth and nutrition and other routine problems in children under 18 years age.
Dr Sindhu is a trained Paediatric intensivist of 12 years' experience and specializes in transporting, stabilizing, and treating sick children in the PICU. She has excellent academic background having completed DCH from KIMS (Hubli), DNB Paediatrics from Narayana Hyrudyalaya, Bangalore, under esteemed teachers and pursued her IAP/College of Paediatric Critical Care Diploma (IDPCC) from People Tree Hospitals, Bangalore.
Dr Sindhu has expertise in managing sick kids with severe sepsis in shock, refractory and super refractory seizure, acute kidney injury needing renal replacement therapy, liver failure, myocarditis, post-surgical cases, and other complex cases. she has ample experience in various PICU procedures like intubation, ultrasound guided central venous line, arterial line insertion, PICC Lines, POCUS etc. She also has been part of an PICU that routinely manages post liver transplant and post bone marrow transplant children and specific issues related to these subsets of population. 
Prior to joining Aster RV, she has worked as Intensivist and consultant at various prestigious hospitals like Indiana hospital (Mangalore), People tree Hospital (Bangalore), Columbia Asia Yeshwanthpur (Bangalore) where she has managed complex, sick neonates, and paediatric patients. She has also experience in teaching DNB paediatric & NNF students. She is also trained in Paediatric Advanced Life Support (PALS) and Neonatal Resuscitation Programme. 
In addition, she has attended as faculty for various state level & national level conferences. She has actively participated as faculty in many workshop programmes.
Area of expertise
Paediatric Critical Care

Point of Care ultrasonography

Simulation based training.

Renal Replacement Therapy

Post BMT and Post transplant Care
Awards and recognitions
Winners Of National level SIMWAR competition held in AIIMS Delhi in March 2019.

Winner of best Poster presentation -SECOND PRIZE at SIMULUS-6, APRIL 2021.

Faculty at various state & national level conference and workshops.
PUBLICATIONS
Work on " A Prospective Study of Central Venous Catheter Related Local Infection (CRLI) And Catheter Related Blood Stream Infection (CRBSI) In Children Admitted to A Level III Neonatal Intensive Care Facility. - was presented to National Board of Examinations, New Delhi in September 2014 as a thesis towards award of post graduate degree (DNB).

 Clinico-Laboratory Profile and Outcome of Rickettsia in Children: Hubli (Karnataka) Experience.  Ratageri V H*, Madhu P K, Sindhu M.V, Shivanand I, Shepur T A; Journal of Paediatric Infectious Disease: Jan 2014

Vein Of Galen Malformations (VOGMS): Case Report; Poster Presented in State NEOCON 2014 At Mangalore.

Profile Of Dengue Patients with Neurological Manifestations – Poster Presented in International Paediatric Critical Care Conference of India -2018 held at Hyderabad.

Challenges Encountered in Managing Non Covid 19 Illness During a Pandemic: Case Report. Chandrashekar S, Sindhu M, Gurudutt A; Indian Journal of Practical Paediatrics: June 2020

Poster presentation at International Paediatric Simulation Society (IPSS) SEP-21 Under safety innovation -

.

What You See May Not Be What You Get! Simulate Towards Effective Planning of Paediatric Intensive Care.

Thyagarajan S, Gowda SM, Ginigeri C, Anupama S, Chinnadurai R. What You See May Not Be What You Get! Simulate Towards Effective Planning of Paediatric Intensive Care. Front Pediatr. 2022 Sep 6; 10:903601. doi: 10.3389/fped.2022.903601. PMID: 36147815; PMCID: PMC9485434.

"

Hemiconvulsion Hemiplegia Epilepsy Syndrome – A Rare Manifestation of Multisystem Inflammatory Syndrome in Children (Mis-C)" - ePoster presentation at World Federation of Paediatric Intensive and Critical Care Societies. (WFPICCS)2022

.

Malvel S, Chandrashekar S, Singh RK. Septic Shock: An Unsual Presenation of Drug Reaction with Eosinophilia and Systemic Symptoms. Indian Pediatr Case Rep 2022; 2:174-7.
Other Similar Doctors