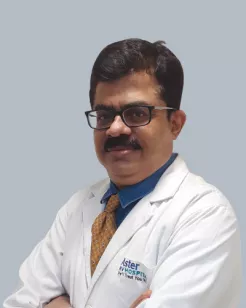 Dr. Sunil Kumar Prabhu
Consultant - Dermatology
Overview
Dr. Sunil Kumar Prabhu is one of the skilled dermatologist in Bangalore at Aster RV Hospital. Currently working as a consultant Physician and Dermatologist at Aster RV Hospital, Dr Sunil has more than two decades of experience in General Medicine, Dermatology, Venereology and Aesthetic Medicine and the Pharma and Consumer Care Industry has Medical Adviser. He has completed his MBBS, MD and DNB in dermatology,Venereology and Aesthetics.Prior to working at Aster RV, Dr Sunil was working as a medical consultant at Sparsha Clinic. In the past, he has also been associated with several leading healthcare companies which include prominent names like Himalayan Drug Company, Zydus Neurosciences and Ranbaxy-Laboratories.
 
Qualifications
MBBS, Gulbarga University, India (1991 )

ECFMG Certification from Educational Commission for Foreign Medical Graduates (1993-94)

Federal Licensing exams- State of PA (USA) from State Licensure Examinations, State of Pennsylvania, USA (1994-95)

Diplomate of the National Board of Exams from National Board of Exams, New Delhi, India(1999)

MD from Bangalore University (1999)


 
Skills
Skilled in Dermatology Management and therapeutics, Cosmetic and Aesthetic Procedures, Dermatosurgical techniques, Sexually Transmitted Infections, Psycho sexual Disorders and Leprosy treatment Clinical Development and Safety, Technical Reporting, Documentation, Protocol Designing/ Feasibility Studies.
Other Similar Doctors