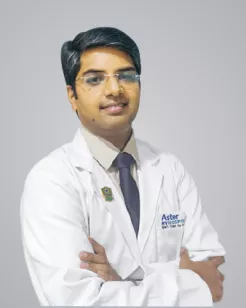 Dr. Yadhu K Lokanath
Consultant - Neurosurgery & Spine Surgeon
MBBS, PG (General surgery), MCh (Neurosurgery), Fellowship in Minimally Invasive & Endoscopic Spine Surgery
Overview
Dr. Yadhu K Lokanath is a well-qualified Neurosurgeon and Spine Surgeon currently working at Aster RV Hospital as a Consultant in Spine Surgery with a special interest in keyhole or minimally invasive spine surgery.
He is a very compassionate surgeon with the goal to hear patient's concerns and achieve optimal outcomes for his patients Earlier he was associated with Aster CMI Hospital as a Senior Specialist in the Department of Neurosurgery - Center of excellence for Brain and Spine before joining Aster RV Hospital. His key area of interest is the treatment of spinal conditions from pediatric to the geriatric population.
He has dedicated his career to the treatment of spinal disorders with lateral access surgery, minimally invasive and endoscopic spine surgery being his clinical area of interest. He completed his MBBS in 2009 from J.J.M Medical college followed by a post-graduation in General surgery from J.J.M Medical College, Davanagere.
He finished his super specialty MCh training in Neurosurgery from J.N Medical College, Belagavi, Karnataka. In 2016 he joined Aster CMI, hospital where he developed a special interest in the management of spinal disorders He underwent advanced training and finished his fellowship in Minimally invasive and Endoscopic spine surgery from Seoul St Mary's Hospital.
He pursued his further training in percutaneous endoscopic spinal surgery as an international visiting surgeon at St Peter's Hospital, Seoul, Korea. He has certification from the Karnataka Medical council with Reg. No 85104.
He has attended various programs, published several scientific papers and articles, and also has made presentations on the management of spinal disorders in academic circles.
With years of experience, he strives to ensure the best possible result for each patient he treats he is prominently known as the Best Spine Doctor in JP Nagar, Bangalore.