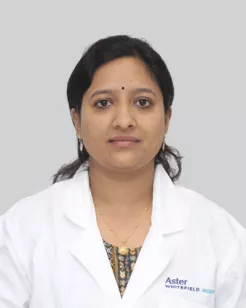 Dr. Pooja Murthy
Consultant - Critical Care Medicine
MD (Anaesthesiology), FNB (Critical Care Medicine), EDIC (European Diploma In Intensive Care), PGDMLE, ECMO Fellowship (ELSO)
Overview
Dr. Pooja Murthy is a consultant in Critical Care Medicine at Aster Whitefield Hospital with over 8 years of experience. She has graduated from reputed institutes in Delhi and Mumbai. She has completed FNB in Critical Care Medicine from the National Board of Lilavati Hospital, Mumbai. She is a gold medalist from Delhi University for the best outgoing student for MD Anaesthesiology. She has also completed her PG Diploma in Medical Law and Ethics from the reputed National Law School of India University and EDIC ( European Diploma In Critical Care) from ESICM. She has undergone speciality training in ECMO by ELSO. She has great experience in managing all types of critically ill patients including transplants and ECMO.
Area of expertise
Trained in reputed Institutes in Delhi and Mumbai.
Provide high-quality medical care to critically ill patients.
Expert in the management of all types of critically ill patients needing ICU care including Mechanical ventilation, Hemodynamic monitoring, Renal replacement therapy (dialysis) in the ICU and use of extracorporeal devices like ECMO.
Special interests - Tropical Diseases, Trauma and Neuro-Critical Care, Poisoning, Obstetric Critical Care, Critical Care Ultrasound, ECMO.
Keen interest in Academics and training.
DNB and IDCCM teacher for Critical Care Medicine.
Awards and recognitions
Gold medal for the Best outgoing student in anaesthesiology from Delhi University.
Various publications in reputed and indexed journals.
Post Graduate Diploma in Medical Law and Ethics from the reputed National Law School of India.
ECMO Fellowship from ELSO.
Faculty in National and State conferences.
Publications
Murthy PR, Venkatesha Gupta KV, Ajith Kumar AK. Is Anxiety a Rising Concern during COVID-19 Pandemic among Healthcare Workers? Indian J Crit Care Med. 2020 May;24(5):369-370. doi: 10.5005/jp-journals-10071-23434. PMID: 32728334; PMCID: PMC7358871.
Murthy PR, Ucchil R, Shah U, Chaudhari D. Hantavirus pulmonary syndrome in a postpartum woman. Indian J Crit Care Med. 2016 Sep;20(9):551-3. doi: 10.4103/0972-5229.190367. PMID: 27688634; PMCID: PMC5027751.
Murthy PR, Ravi GK, Gupta KV, Gopaldas JA, Rai PP. Challenges in Managing a Patient with Refractory Shock due to Telmisartan Overdose. 2022; 1 (1):26-28.
Murthy, P. R., Kumar AK, A., Karanth, S., & Kalashetty, M. (2019). Thrombotic thrombocytopenic purpura in a patient with a snake bite. Indian Journal of Case Reports, 5(3), 277–279. https://doi.org/10.32677/IJCR.2019.v05.i03.028.
Detection of co-morbid illnesses during pre-anaesthesia evaluation in a university teaching hospital: A prospective observational study. Pooja Murthy, Indira Malik, Vikram U. Lahori, Sujata Chaudhary, Sharmila Ahuja, Zainab A. Haq. The National Medical Journal of India vol. 27, no. 5, 2014.
Comparison of Efficacy of Caudal Clonidine in Two Different Dosages with Ropivacaine on Neuroendocrine Stress Response to Surgery in Children Undergoing Lower Abdominal and Urological Surgeries Under General Anaesthesia. Murthy Pooja R., Ahuja Sharmila, Choudary Sujata. Indian Journal of Anaesthesia and Analgesia Volume 3 Number 2, May-August 2016.
Authored chapters in Critical Care updates and books.
Fellowship & Membership
Member of the Indian Society of Critical Care Medicine (ISCCM).
Member of the European Society of Critical Care Medicine(ESICM).
Member of the Indian society of Anaesthesiology (ISA).
Other Similar Doctors