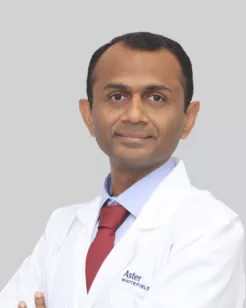 Dr. Venkatesha Gupta K V
Consultant - Critical Care Medicine
Overview
Dr. Venkatesha Gupta K V is a Consultant in Critical care medicine at Aster Whitefield Hospital with over 12 years of experience. He completed his MD in Anaesthesiology from Gujarat under Saurashtra University through the All India postgraduate entrance examination. He underwent specialist training in Adult Intensive Care medicine under the Indian society of critical care medicine. He completed Indian Diploma in critical care medicine from Manipal hospital, old airport road and an Indian fellowship in Critical care medicine from Narayana Health, Bommasandra. He has also completed the European Diploma in Intensive care medicine examination from Ireland under the European Society of Intensive care Medicine. He has experience working in state-of-the-art quaternary care centres in Bangalore.
Area of expertise
Trained in Multidisciplinary ICU settings.
Management of all types of critically ill patients including medical, post-surgical, CTVS, Trauma, Obstetrics, Neurology, Neurosurgical, and Hemato Oncology patients.
Expert in hemodynamic monitoring, mechanical ventilation and Extracorporeal therapies like RRT and ECMO.
Basic and Advanced cardiac life support - trainer.
Trained in Advanced trauma life support.
Non - Invasive ventilation.
Communication in ICU.
Awards and recognitions
Teacher for Diploma in Critical Care Medicine and Nursing Diploma in Critical Care under the aegis of the Indian Society of Critical Care Medicine.
Teacher for DNB Critical Care Medicine under DNB Board.
Fellowship in ECMO by The Simulation Society & International Society of Cardiovascular Ultrasound.
ELSO certified in ECMO.
Faculty in national and regional conferences including various workshops.
Publications
Gupta S, Tomar DS, Dixit S, Zirpe K, Choudhry D, Govil D, Mohamed Z, Chakrabortty N, Gurav S, Wanchoo J, Gupta KV. Dilatational Percutaneous vs Surgical TracheoStomy in Intensive Care Unit: A Practice Pattern Observational Multicenter Study (DISSECT). Indian J Crit Care Med. 2020 Jul;24(7):514-526. doi: 10.5005/jp-journals-10071-23441. PMID: 32963433; PMCID: PMC7482354.
Contributed to Expert Panel for "Tracheostomy in Adult Intensive Care Unit: An ISCCM Expert Panel Recommendations" 2020.
Case report: Murthy PR, Ravi GK, Gupta KVV, et al. Challenges in Managing a Patient with Refractory Shock due to Telmisartan Overdose. J Acute Care 2022;1(1):26–28.
Chapter: Co-authored a chapter in "Handbook on complete COVID care" on the topic "Diagnosis" launched on Nov 9th 2021.
Chapter: Co-authored a chapter in "1000 MCQs in intensive care" edited by Dr Pradeep Rangappa and Dr Ajith Kumar AK launched in 2021.
Letter to the editor IJCCM: Murthy PR, Venkatesha Gupta KV, Ajith Kumar AK. Is Anxiety a Rising Concern during COVID-19 Pandemic among Healthcare Workers? Indian J Crit Care Med 2020;24(5):369–370.
Gupta KV

, Ajith Kumar AK, Bhattacharya M, Murthy PR, Sarath K. A rare case of fetal gas gangrene following premature rupture of membranes in the second trimester diagnosed with the aid of computed tomography. J Obstet Anaesth Crit Care 2022;12:70-3.
Professional Affiliations
Karnataka Medical Council (KMC).
Life member - Indian Society of Critical Care Medicine (ISCCM).
Life member - Indian Society of Anaesthesiologists (ISA).
Indian Medical Association (IMA).
Life member - Association of medical consultants (IMA) Bangalore.
Other Similar Doctors