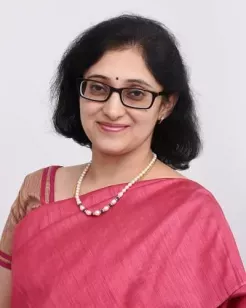 Dr. Jyothi Raghuram
Senior Consultant - General Pediatrics & Pediatric Rheumatology
DNB Paediatrics, EULAR course (Paeditaric Rheumatology), Special Training - Paediatric Rheumatology (Bristol, UK)
Overview
Dr. Jyothi Raghuram is a very popular and leading Family centric Pediatrician, practicing in Marathalli and at the best maternity hospital in Whitefield for more than a decade. She has over 17 years of experience in General Pediatrics and 7 years of experience in Pediatric Rheumatology.
Her primary areas of focus are Ambulatory Pediatrics, General Health, and Preventive checks from newborns till 18 years of age. The complete gamut of General Pediatric care, Growth & development, Essential Newborn care, Infectious disease, and Seasonal illness is comprehensively covered under her leadership and Aster Whitefield.
Family-centered care with a special focus on Community Outreach, Parental education, and Counselling to distressed children and extended family is her forte.
Her special interest in Pediatric Rheumatology led to advance her training in this sub-specialty from the best centers in India and abroad. She is an expert in the work-up and treatment of children with Rheumatological issues that include arthritis, myositis, Connective tissue disorders, prolonged fever, auto-immune and auto-inflammatory conditions. These children generally have chronic conditions that need regular follow-up and long-term Multidisciplinary care. -. As a Pediatric Rheumatologist, she is the anchorperson who coordinates the care and management of children with rheumatological illness.
Background
She completed her basic medical training from Bangalore University in 2000 and post-graduation in Pediatrics (DNB) from Mumbai under the auspices of the National Board of Examinations in 2004.  She gained further experience in Pediatrics in Mumbai working in the prestigious Bai Jerbai Wadia hospital for children, Nowrosjee Wadia Maternity Hospital, and in Manipal Hospital, Bangalore.  After spending close to a decade in General Pediatrics and Neonatology, she chose to pursue Pediatric Rheumatology as her special interest since 2012. She completed Basic and Advanced Pediatric Rheumatology course in Mumbai in 2012 and gained experience in the field mainly in Bangalore at the Pediatric Rheumatology clinic in Indira Gandhi Institute of Child Health and also had a short period of training at Bristol Children's hospital in the UK. In 2016, she completed the EULAR online course in Pediatric Rheumatology conducted by European Union League Against Rheumatism (EULAR) and Pediatric Rheumatology European Society (PReS).
She was attached to Yashomati Hospital, Bangalore (2010-2014) and Columbia Asia Hospital, Whitefield (2014-2021) as Senior Consultant in Pediatrics and Neonatology and successfully established the Department of Pediatrics in both the hospitals.  
Area of expertise
General Pediatrics

Arthritis in children

Connective tissue disorders

Pediatric vasculitis
Awards and recognitions
She is a Life Member of the Indian Academy of Pediatrics and the Indian Rheumatology Association. She is presently an Executive Board member of the Pediatric Rheumatology Society of India (2021-22) and is actively involved in organizing CMEs and conferences in Pediatric Rheumatology. She has participated as a delegate and faculty in numerous conferences and teaching programs.
She is a committed and caring professional who always puts the interests of her little patients first and foremost.
Publications
Arvind Shenoi, Jyothi Raman, Srinivas Murki, Naveen Jain, Satish Saluja. Private health system in India and neonatal care. Journal of Neonatology Jul-Sep 2009;23:234-243.

Systemic lupus erythematosus. Anand P Rao, Jyothi Raghuram. Indian Journal of Practical Pediatrics, Rheumatology issue, Oct-Dec 2016, Vol 18, No.4.

Mycophenolate Mofetil Induced Transfusion Dependent Anaemia in Lupus. Anand Prahalad Rao, Ayesha Romana, Jyothi Raghuram.

 

Indian Journal of Rheumatology.March 2018;13, pp 69-7

Rao AP, Mallya PP, Ranjani S, Raghuram J. Chronic recurrent multifocal osteomyelitis - A case series from India. Indian J Orthop 2018;52:672-7.

Shivappa, Sanjay Kantharajpura et al. Clinico-pathological and morbidity profile of childhood polyarteritis nodosa in a tertiary referral center. International Journal of Contemporary

 

Pediatrics (S.I.), v.7.n.3, p.696-703, Feb 2020. ISSN 2349-3291.

Hedge JS, Raghuram J, Dechamma S. Granulomatosis polyangiitis: an otorhinolaryngological perspective. Inj J Otorhinolaryngol Head Neck Surg. 2020;6:1729-32.

Raghuram J, Gornale VK, Rao AP. Outcome of Patients With Systemic Onset Juvenile Idiopathic Arthritis With Macrophage Activation Syndrome at Onset. Indian Pediatr. 2021 Jan 15;58(1):87. PMID: 33452788.
Oral and Poster Presentations
Retrospective study of antenatally diagnosed congenital anomalies and their postnatal outcome in a private tertiary level hospital. Jyothi Raman, K.P.Mehta, K.P.Sanghvi, Ashish Desai. Poster presentation at 46th National Conference of Indian Academy of Pediatrics 2003, Mumbai

Kawasaki disease. Jyothi R, Khubchandani RP. Poster presentation at EMBICON 2003, Mumbai

Role of oral Cyclophosphamide in steroid resistant Nephrotic syndrome. Jyothi R, Ali U.S. Oral paper presentation at IPNGCON 2006 (XVIII Annual Conference of Indian Pediatric Nephrology Group) Mumbai

Poster presentation on "Kawasaki disease – An experience from a tertiary centre in Mumbai" at EMBICON 2004, Mumbai.

Poster presentation on "Macrophage activation syndrome as presenting feature of Systemic onset JIA" in National Conference of Pediatric Rheumatology, Chandigarh, 2014.

Case presentation on "EBV induced HLH" in Pediatric Rheumatology CME conducted at Bangalore in July 2016.

Case presentation on "Neuropsychiatric SLE" in Pediatric Rheumatology symposium at PEDICON 2017, Bangalore.

Poster presentation at National Conference of

 

Pediatric Rheumatology 2017- Systemic onset JIA with "Macrophage activation syndrome at onset - A case series"
Other Similar Doctors