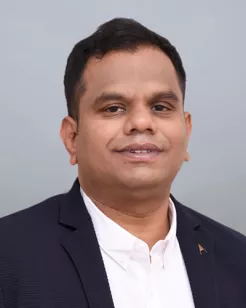 Dr. Lathiesh Kumar
Lead Neonatology, Consultant – Paediatrics and Neonatology
MBBS, MD (Paediatrics), DM (Neonatology), IPPN (Australia)
Overview
with over 12 years of experience, Dr. Lathiesh Kumar Kambham is a top neonatologist and paediatrician at the best neonatology hospital in Whitefield, Bangalore. He has a special interest in the management of birth asphyxiated babies and extreme preterms and has done extensive research on the same. He is specialized in DM Neonatology – A specialization that trains one to handle complex and high-risk situations in babies that require NICU care, from the prestigious Madras Medical College, Chennai, known for the largest paediatrics department in India. Dr. Lathiesh has also undergone special training in the developmental assessment in preterm and birth-asphyxiated babies.
He has hands on experience of setting up NICU and handling perinatal & neonatal surgeries. As a part of the rural health program, he has been instrumental in the implementation of National Pulse Polio Program, Revised National Tuberculosis Control Program and National Leprosy Eradication Program in Sarjapura, Bangalore (rural). In addition, he also supervised the implementation of screening programs for children with malnutrition and vitamin A deficiency in the rural population.
As an active member of various reputed organizations who has published both Indian and international papers, he is committed to providing safe, meticulous, and highest-quality care to provide the best outcomes and is focused on student mentorship and motivation. He is also keen on bringing in more opportunities for budding neonatologists by providing them comprehensive training and increasing awareness about the paediatrics department.
A medical professional with strong ethics, focusing on evidence-based medicine, and following international protocols inpatient management, Dr. Lathiesh is known for his detailed patient counselling, providing due disease process and prognostic details of the condition. The expert hand, better knowledge, and continued touch with the field's latest innovations make him stand out from the rest.
Area of expertise
Extreme preterm baby care (>23wks of gestation)

Birth asphyxia babies needing cooling therapy

Meconium aspiration babies needing inhaled nitric oxide

General paediatrics for child well being and vaccination
Awards and recognitions
Topper in Pharmacology at University

Best Outgoing student in MBBS

Topper in MD Paediatrics

Best Clinician in DM (Neonatology)


 
Membership
Indian Academy of Pediatrics

Bangalore Super-Speciality Forum

National Neonatology Forum (NNF)


 
Papers Published
Retinopathy of prematurity – Epidemiology in a tertiary care centre, Indian Journal of Child Health, Issue 4 (3), Jul- Sep 2017

Role of serum biomarkers in Birth asphyxia and correlation with neurological outcome at 18months of age. Indian Journal of Child Health, Issue 3 (2), Feb-Mar 2016.

Congenital methemoglobinemia – Case series. Indian Journal of Pediatrics, Volume-75, Mar 2011.

Clinico-Echocardiographic correlation of acyanotic congenital heart disease in a tertiary care centre. Pediatric Cardiology, 2014.