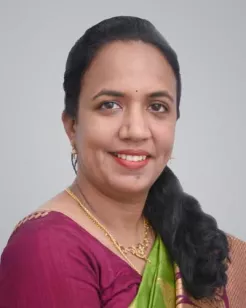 Dr. Sandhya Rani
Sr. Consultant - Obstetrics & Gynaecology
MBBS, MS (OBG) DNB, Menopause Practitioner
Overview
Dr. Sandhya Rani is a senior Obstetrics & Gynaecology consultant at the best obstetric hospital in Whitefield with more than 14 years of experience. She has expertise in handling high risk pregnancies, hysteroscopy, caesarean birth, vaginal deliveries, forceps deliveries, caesarean sections, and abdominal hysterectomies. She is adroit in gynaecological procedures like IUCD insertions, D&C, HSG, ovarian cyst removal, ectopic pregnancy, tubectomy and abdominal hysterectomies.
Dr. Sandhya is a certified IMS Menopause Practioner. She had conducted over 1000+ vaginal deliveries and performed over 1000 C-sections individually.
Previously, she was a consultant at Apollo cradle, Aayug hospital and a visiting consultant at VIMS, Yashomati Hospital, and Axon Hospitals, Bangalore.
She completed her (graduation and post-graduation) MBBS and MS in Obstetrics & Gynaecology from Andhra Medical College, Visakhapatnam and DNB in Obstetrics & Gynecology from DNB board, New Delhi.
Dr. Sandhya is adored by her patients for detailed explanation and counselling of the medical condition, diagnosis and treatment options. She continues to advance her skills in all areas of OBG which help give the best care to her patients.
Dr. Sandhya believes in ethical and protocol-based practice. She advocates preventive medicine and has given numerous talks in corporates and social media settings on this topic. She believes in making the lives of women a beautiful journey.
Area of expertise
Normal deliveries

VBAC (Vaginal Birth After Caesarean)

Menstrual problems

Cancer screening