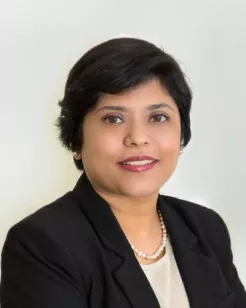 Dr. Kavitha Kovi
Sr. Consultant - Obstetrics & Gynaecology
Overview
Dr. Kavitha Kovi is a highly acclaimed Senior Obstetrics & Gynaecology Consultant. With an extensive experience of two decades in the fields of Obstetrics & Gynaecology.  She is a highly qualified clinician and has contributed immensely to the field of Complex Obstetrics such as High-risk Obstetrics, Diabetes in Pregnancy, Twin Pregnancy, Precious Pregnancies and is now keen to develop a Maternal Medicine unit. She is an expert in complex Laparoscopic Surgeries, Hysterectomy, Abdominal Myomectomy, Ablation of Endometrial Deposits, Ablation of Endometriosis Spots, Adhesiolysis, Anterior and Posterior Vaginal Repair, etc.
Specializing in Obstetrics and Gynaecology, Dr. Kavita has completed her MBBS from AIMS Bellur (1993-1998) and holds a master's degree from SDUMC Kolar (2000-2004) in the field.  She is trained in Obstetric and Trans Vaginal Scans under Dr. Kamalakar Reddy, Hyderabad.
Dr. Kavita has led the department in establishing DNB Programme and was instrumental in conducting DNB exams (Diplomate of National Board) and teaching in her past experience.  As an ever-enthusiastic professional, she has participated in various programs, perinatal meetings, workshops and was also trained for an ultrasound at Sravya scan center Hyderabad. A medical professional with strong ethics, Dr. Kavita's expert hands, extensive knowledge, and continued touch with the field's latest innovations make her stand out from the rest.
Area of expertise
High-Risk Pregnancy Care
Maternal Medicine
Contraception Advice
Medical Termination of Pregnancy (MTP)
Minimal Invasive Surgeries (Laparoscopic)
Hysteroscopy
PCOD/PCOS Treatment
Breast Cancer Screening
Infertility Evaluation
Abdominal Myomectomy
Ablation of Endometrial Deposits
Ablation of Endometriosis Spots
Adhesiolysis
Anterior and Posterior Vaginal Repair
 
Papers Published
Research publication in Elective induction of labour - 2005
 
Membership
Bangalore Society of Obstetrics & Gynaecology
Federation of Obstetric and Gynaecological Societies of India (FOGSI)