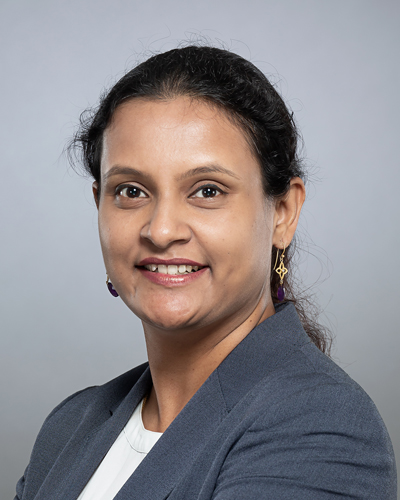 Dr. Chethana D
Consultant - Rheumatology
Overview
Dr. Chethana, with 12 years of experience in Rheumatology, is well-trained in managing all rheumatological conditions including rheumatoid arthritis, psoriatic, reactive, crystal arthritis, osteoarthritis, ankylosing spondylitis, vasculitis like Wegener's granulomatosis, microscopic polyangiitis, Takayasu's arteritis, SLE, systemic sclerosis, myositis, sarcoidosis and chronic pain.

She has a special interest in Vasculitis, having worked with experts in the filed in UK. She practices evidence-based medicine. Dr. Chethana performs intra-articular (joint) injections, soft tissue injections and is trained in performing muscle and salivary gland biopsies. She is trained in musculoskeletal ultrasound and facilitates Biologic injections and infusions in our daycare.

Dr. Chethana completed her undergraduate training from Kempegowda Institute of Medical Sciences, Bangalore. She then travelled to the United Kingdom to pursue higher training and completed MRCP Internal Medicine from the Royal College of Physicians. As Rheumatology always fascinated her, she decided to further her career in the field. She has experience in laboratory-based research, having worked as a Clinical Research Fellow in Rheumatology at University Hospital of Wales, Cardiff, UK.

Dr. Chethana was involved in a research project on Minocycline induced Lupus. She then joined the prestigious Cambridge Deanery for super-speciality training in Rheumatology. She completed the Specialty Certificate Exam in Rheumatology and obtained Certificate of completion of training (CCT) in Rheumatology in 2013. On returning to India, she worked as a Consultant Rheumatologist at Apollo Hospitals, Bangalore from Aug 2013 to Dec 2016. She joined the Aster group in January 2017.
Area of expertise
All aspects of rheumatology – Rheumatoid and other Inflammatory arthritis like Psoriatic arthritis, Ankylosing Spondylitis, Connective tissue diseases like SLE, Myositis, Vasculitis, Interstitial Lung diseases

Membership
Member of Indian Rheumatology Association
Indian Medical Association
General Medical Council, UK
Royal College of Physicians, UK

Papers Published
Biologics and risk of tuberculosis in autoimmune rheumatic diseases: A real-world clinical experience from India
Incidence of infection other than tuberculosis in patients with autoimmune rheumatic diseases treated with DMARDs: a real-time clinical experience from India
Other Similar Doctors