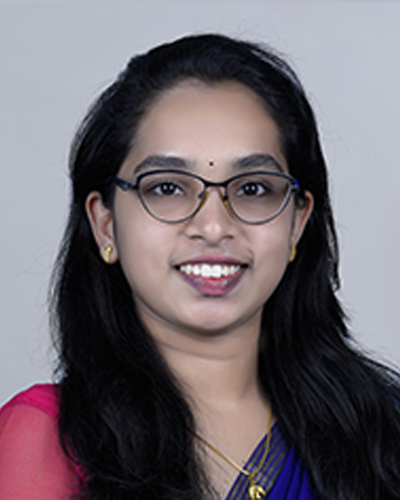 Ms. Indira Boddapati
Paediatric Physiotherapist
BPT, MPT (Paediatric Neurology)
Overview
Dr Indira Boddapati is a well-versed Paediatric Physiotherapist, currently working at Aster CMI Hospital in Hebbal. She is highly-qualified in paediatric physiotherapy, dedicated to providing quality physiotherapy care to every child.
With vast knowledge in the field, Dr Indira is well-known as the Best Paediatric Physiotherapist In Bangalore. Dr Indira did BPT from NTR University of Health Sciences and MPT in Paediatric Neurology from Manipal Academy of Higher Education. She is a Senior Paediatric physiotherapist with postgraduate professional experience in Neurorehabilitation.
 
Experience:
Dr Indira Boddapati did paediatric rehabilitation training from Manipal college of Health Professions, Manipal Academy of Higher Education in Udupi, Karnataka. She is involved in the management of children with different clinical presentations, cerebral palsy, autism spectrum disorders, neurodevelopmental disorders and newborns at risk of neuromotor disabilities. Besides being a paediatric physiotherapist, she takes care of providing intervention in an acute setting for children in the Paediatric Intensive care unit.
She is proficient in paediatric physical therapy management like Activity focused motor interventions, Early intervention, Sensory motor-based intervention - gait rehabilitation and play therapy in children and Neurodevelopmental based treatment methods.
Dr Indira is skilled in assessment evaluation utilising different paediatric motor & sensory outcome measures and infant neurological assessment.
 
Conferences/Workshops/CME/Presentations:
NCORE Conference on Perspectives in Paediatric Neurorehabilitation in 2018
International conference of COMHAD 2018 (Theme: Transforming Comprehensive Disability Care in children from Policy to practice) in 2018
1st Manipal International Physiotherapy Conference in 2017
National Physiotherapy Conference in 2014
CME Update on "Upper Limb Motor Recovery Strategies in Stroke" in 2019
Paediatric Imaging - 2018 organized by KMC & KH, MAHE, Manipal
CME on "Neural plasticity after stroke: From Restoration to Rehabilitation" and "Stroke in upper limb rehabilitation" in 2018
Workshop on "Proprioceptive Neuromuscular Facilitation Techniques"
Presented a paper on "Lower limb musculoskeletal evaluation in Spastic Diplegia children between 5-15 years" at the International conference of COMHAD in 2018
Presented a poster on "Effect of McKenzie technique versus neural mobilization in low back pain with radiculopathy" at Manipal Research Colloquium in 2018
Presented a poster on Electrotherapy – Electromagnetic induction (replication of a device) at the National Physiotherapy Conference held in Hyderabad, 2014