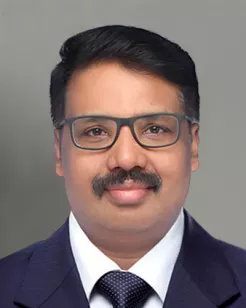 Dr. Anoop Thomas
Consultant - Neurospine Surgery
MBBS, MS (General Surgery), MCh (Neurosurgery), Fellowship in Skull Base Surgery & Neuro Oncology, MRCS
Overview
Dr. Anoop Thomas is a neurosurgeon with over 11 years of experience in the field of spine and brain micro neurosurgery and complex spine surgery. His field of interest is in surgery for degenerative spine diseases like lumbar disc disease and cervical disc disease, spine tumours and spine reconstruction in oncological diseases, Minimally invasive spine surgery.
Dr. Anoop Thomas passed his MBBS from Government Medical college, Kottayam in the year 2008 and subsequently did his MS in general surgery from Madurai Medical College, Madurai.
He did his MCh in neurosurgery from Bombay Hospital Institute of Medical Sciences Mumbai. Thereafter he did 2 year fellowship in skull base surgery and neuro oncology from Amrita Institute of medical sciences, Kochi. During this period, he has undergone training in advanced spine surgery also. He is a diplomate of the national board and member of the Royal college of surgeons of Edinburgh (MRCS).
He has been in Lourdes hospital Kochi as consultant Neurosurgeon for 3 years and thereafter served as assistant professor neurosurgery in Amrita institute of medical sciences. He was teaching faculty for the MCh Neurosurgery trainees as well as the post-doctoral Fellowship programme in advanced spine surgery and minimally invasive spine surgery for 5 years before joining Aster Medcity, Kochi.
Area of expertise
Cranio vertebral (CV) junction surgeries
Scoliosis surgery
Deformity correction 
Surgery for spinal tumours 
Surgery for lumbar and cervical disc
Sacral tumours
Spinal dysraphism
Surgery for spine injuries, cervical thorasic and lumbar.
Minimally invasive spine fixation, minimally invasive spine tumour surgery, MIS TLIF etc 
Laminectomy, laminoplasty.
Cervical lateral mass fixation
Trans oral odontoid excision
Surgery for spinal metastasis 
Spinal stabilisation in oncologic diseases
360 degree fusion of lumbar, cervical and thorasic spine and CV junction
Adult deformity surgery
Trans pedicular biopsy, Vertebroplasty, Kyphoplasty
Spinal cord stimulation and functional spine surgery
Endoscopic surgery for spine 
PLIF, TLIF
Pedicle screw fixation and Percutaneous pedicle screw fixation
Surgery for syringomyelia 
Surgery for stroke
Endoscopic and open evacuation of brain clots
Chiari malformation
Arachnoid cysts
Cranial trauma,
Brain tumour surgery
Skull base microsurgery
Awards and recognitions
Assistant Professor & faculty for post doctoral   fellowship programme in advanced spine surgery and minimally invasive spine surgery at Amrita Institute of Medical Sciences, Kochi
Member of Neurological Society of India
Member of Neurospinal surgeons' association of India (NSSA)
Member of AO spine 
Postgraduate teacher in neurosurgery
Faculty for many conferences in national and international level.
Many research articles published in peer reviewed journals
Other Similar Doctors