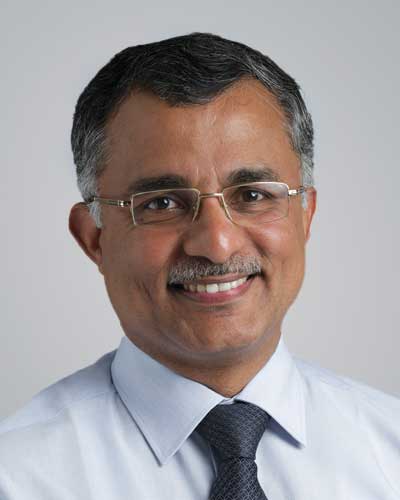 Dr. Anil Kumar R
Senior Consultant - Interventional Cardiology
MBBS, MD, DM (Cardiology), MRCP(UK), Fellow of the Royal College of Physicians, Fellow of the Cardiological Society, Fellow of the American College of Cardiology, Fellow of the Gulf Heart Association and Fellow of the Royal College of Physicians
Overview
Dr. Anil Kumar is currently the Lead Senior Consultant of Aster Cardiac Sciences at Aster Medcity, Kochi, Kerala. He was instrumental in setting up the most modern department of Cardiology at Aster Medcity, equipped with the latest technology. His credentials are as follows:
MBBS (JIPMER, Pondicherry, India) 1986
MD (JIPMER, Pondicherry) 1991
DM (Cardiology), GB Pant Hospital, Delhi University, New Delhi, India ,1994
MRCP(UK) 1997
Fellow of the Royal College of Physicians (Edinburgh & London) 2005 
Fellow of the American College of Cardiology (FACC) 2010
Fellow of the Royal College of Physicians (London) 2020
Dr. Anil Kumar is an interventional cardiologist who has a vast experience of 26 years in the field of clinical and academic Cardiology. He trained in the best of medical institutes in India. He started the program of coronary angiography and angioplasty, including primary angioplasty in JIPMER in 1995. He was awarded the Commonwealth Scholarship in 1996. He worked at the Freeman Hospital, Newcastle upon Tyne, UK, from 1996 to 1997 and trained in Cardiac Electrophysiology. He was directly appointed as Associate Professor of Cardiology at JIPMER, Pondicherry after this and he started the program of Cardiac Electrophysiology and radiofrequency ablation in the institute. He was appointed the Professor of Cardiology at JIPMER in 2002. He was involved in starting the post-doctoral program (DM ) in Cardiology at JIPMER and has trained many doctors in invasive cardiology. Subsequently, Dr Anil Kumar worked as Head of Department of Cardiology at the Belhoul Specialty Hospital, Dubai, UAE from June 2005 till August 2013 and led a successful interventional cardiology program at the hospital. He started the electrophysiology program at Belhoul Hospital, Dubai, a first in UAE. He has vast experience in coronary interventions, balloon valvuloplasty, pacemakers and defibrillators.
Dr. Anil Kumar has presented papers in major international conferences including the World Congress of Cardiac Pacing and Electrophysiology and the North American Society of Pacing and Electrophysiology. He has fifteen publications in peer reviewed journals, including Heart and the European Heart Journal. He was an examiner for DM Cardiology at the Delhi and Pondicherry Universities of India. He has authored chapters in textbooks in cardiology. He is the founder Editor of the Aster Medical Journal. He is a regular speaker at many national and international cardiology conferences. Dr Anil Kumar has been an avid organizer of CMEs and academic programs for the medical community at large. He has been instrumental in starting the first overseas chapter of the Cardiological Society of India in Dubai, UAE and was the founder Secretary of CSI Emirates. Dr Anil Kumar is a current international examiner for the MRCP(UK) examinations. He took the lead in setting up the MRCP(UK) PACES clinical examinations for the first time in Kerala and is the Federation Lead for PACES for the Royal Colleges of Physicians of UK. He also initiated the program of Internal Medicine (IMT) Training for post graduate doctors in Internal Medicine at Aster Medcity- a combined initiative with the Joint Royal Colleges of Physicians of UK.
Dr. Anil Kumar has been leading the Cardiology services of Aster Medcity for the last 9 years.
Awards and recognitions
Top South India: India Today Survey - 2022
Top Cardiologist in South Outlook Survey - 2022
Common Wealth Scholarship Award - 1996
Fellow of the Gulf Heart Association - 2014
Fellow of the Cardiological Society of India - 2007
 
Other Similar Doctors