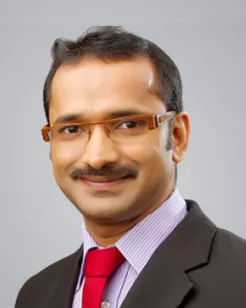 Dr. Mahesh B.S
Director of Critical Care Medicine & ECMO services
MBBS, PCCU,PDCU,EDIC, FCICM, ID- ECMO
Overview
Dr. Mahesh B.S is the Director of Critical Care Medicine and ECMO services in Aster MIMS, Calicut.
He has extensive national and international experience in the area of Critical Care Medicine for more than 20 years. He has extensive Critical Care Medicine experiences in UK, Australia, Middle East, and India. He got trained in Critical Care Medicine from UK & Australia. He is a Fellow of the College of Intensive Care Medicine, Australia and New Zealand (FCICM). He has also secured the European Diploma of Intensive Care Medicine(EDIC). He also has an International Diploma in ECMO from France.
Before joining MIMS, he was the Director of ICU in Mackay Base hospital, Australia for 5 years. He is the lead consultant in ECMO training, implementation, and development of a successful and high volume ECMO unit in Aster MIMS, Calicut.
His area of interests are ECMO, ultrasound in Critical Care, Sepsis management, and Advanced ventilatory management in ARDS patients.