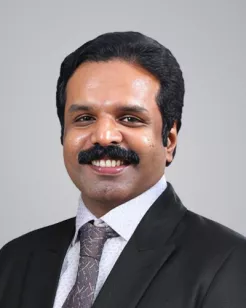 Dr. Anoop Kumar A S
Director - Aster North Kerala Cluster (Critical Care)
Overview
Dr. Anoop is Director -  Aster North Kerala (Cluster) of Critcal Care Medicine. He is an expert, capable of handling complicated cases and infectious diseases in ICU. His areas of interests are Infectious diseases in ICU, Prolonged fever evaluation and Viral infections.He was recognised for early detection of Nipah outbreak in Calicut in 2018 and for subsequent role in containment activities. He is a winner of the Best Doctor award of Kerala Govt., Kairali TV Best Doctor award, and many other awards. He is also actively involved in many Public health awareness activities. He is an invited faculty for many regional and national critical care medicine conferences and he also holds an international diploma in intensive care.
Area of expertise
Infectious Diseases

Tropical fevers

Unconventional ventilatory strategies like prone ventilation,HFOV etc.

Poly trauma management in ICU
Awards and recognitions
Publications
Editorial board member,Indain Journal of Acute Care Medicine
Invited Editorial on Nipah, In IJCCM
Interview on Nipah,Published in BMJ
2 review articles and 4 case reports in indexed journals
Senior Level Advisory Position
Member of Kerala Govt. Expert Advisory Panel on COVID Management
Ethical Committee member,Malabar Cancer Centre,Telichery
Chairman, ISCCM-Calicut Chapter
Managing director ,CAPP( Calicut Acute care Providers Pvt. Ltd) - Company providing Medical professional services in ICUs and Emergency Dept of Hospitals.
Academic Positions
DNB Critical care Medicine Teacher
IDCCM Teacher
Chief of Critical care Medicine Dept. In Baby Memorial Hospital,Calicut.
Other Similar Doctors