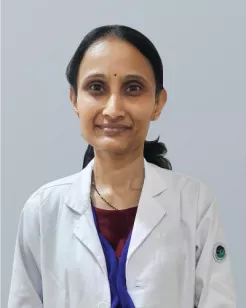 Dr. Poornima Kinila
Consultant - Obstetrics & Gynaecology and Infertility
Overview
Dr. Poornima Kinila is a caring and dutiful doctor. She diagnoses and treats her patients with individualised care with utmost patience. She has an experience in the field of Obstetrics & Gynaecolgy and Infertility for more than a decade and a half.
She conducts normal deliveries, caesarean deliveries and instrumental deliveries, family planning practices like Copper T insertion, abortion services, early pregnancy counselling. She does early pregnancy scans and growth scans to determine the stage of pregnancy and treat accordingly to patients needs.
She is also versatile in the field of reproductive medicine bringing joy to the infertile couple with her success stories. She can perform follicular monitoring scans, cyst aspirations, egg pick up in IVF and embryo transfer. In all she is a person that anyone can relate easily to share their story for better treatment success and outcome.
Area of expertise
•    Obstetrics 
•    Infertility 
•    Abortion service