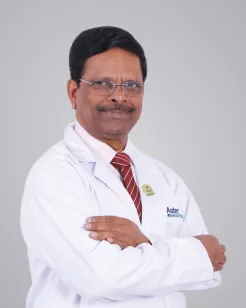 Dr. Sreekanta Swamy
Lead Senior Consultant - Neurology
MBBS(1979), MD(1985), DM(1994)
Overview
Dr. Sreekanta Swamy is our Senior Neurologist and Head of Neurology. He finished his training at the prestigious Sri Chitra Tirunal Institute, Trivandrum. After earning his M.B.B.S. from Mysore University in 1979, Dr. Swamy went on to obtain his M.D. in Internal Medicine from Gulbarga University in 1984.
Since then, he has accumulated a vast experience of 25 years, which includes Accident and Emergency care at NIMHANS at the beginning of his career. After this, Dr. Sreekanta Swamy served as a Lecturer in Medicine at KMC, Hubli. After undergoing Neurology training, Dr. Swamy was appointed as Lecturer in Neurology at the Bangalore Medical College.
In addition to his tenure as Senior Specialist in Neurology at Salmaniya Medical Centre, Kingdom of Bahrain, Dr. Swamy has worked at various corporate hospitals like Mallya Hospital, Fortis Healthcare, and Apollo Hospitals. He has also served as a Professor of Neurology at Vydehi Medical College, Bangalore, for 8 years and contributed to the education and training of PG students there.
Over time, Dr. Sreekanta Swamy has proven instrumental in organising many CMEs and public awareness programmes on various neurological illnesses, while also holding multiple national and international publications to his credit.
He is an esteemed member of the Indian Academy of Neurology, the American Academy of Neurology, the Indian Epilepsy Association, Bangalore Neurological Society, and the Headache and Neurophysiology subset of the IAN.
Other Similar Doctors