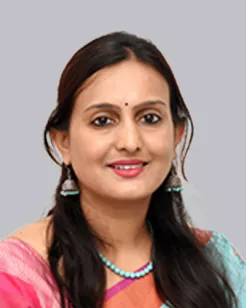 Dr. Namratha Upadhya
Specialist - Paediatric Endocrinology
MBBS, MD Paediatrics, Fellowship in Paediatric Endocrinology from IGICH
Overview
Dr. Namratha Upadhya P Y is a Paediatric Endocrinologist with 2 years of experience in paediatric endocrinology. She has done her fellowship in Paediatric & Adolescent Endocrinology from IGICH, Bangalore which is one of the largest paediatric referral centres in Karnataka. Her training involved exposure to a wide spectrum of paediatric endocrine conditions.
Dr. Namratha has done her MBBS from MS Ramaiah Medical College (2008) and MD in Paediatrics from GMC, Goa (2012) and her fellowship in Paediatric endocrinology from IGICH, where she was the topper of her batch.
Prior to her joining Aster Hospitals, she worked as Assistant Professor in Paediatrics at Ramaiah Medical college for 6 years and as a visiting paediatric endocrinologist at Bhagwan Mahaveer Jain & Sparsh hospital for women & children, Bengaluru. She is passionate about her subject and believes in practising evidence-based medicine to provide the best possible care for her patients.
Area of expertise
Paediatric diabetes
Disorders of growth- short stature
Early & Delayed puberty, PCOS in adolescents
Thyroid disorders
Obesity
Calcium & Bone disorders in children
Disorders of sex differentiation (DSD)- ambiguous genitalia
Endocrine emergencies- DKA, Hypoglycemia, Hypocalcemia
Endocrine oncology- endocrine management of craniopharyngioma, thyroid & adrenal tumours.