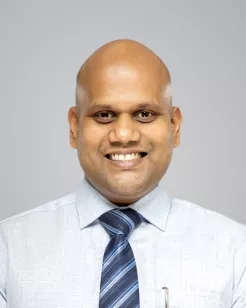 Dr. A Arun Kumar
Vascular & Endovascular Surgery
MBBS, MS (General Surgery), MCH (Vascular Surgery)
Overview
Dr. Arun Kumar is a Vascular Surgeon currently working at Aster CMI Hospital, Hebbal & Aster RV Hospital, JP Nagar, Bangalore. Dr. Arun Kumar is an experienced Vascular & Endovascular surgeon and is a life member of the Vascular Society Of India. Dr. Arun Kumar holds expertise in the management of varicose veins, peripheral arterial diseases, aortic aneurysm repairs, dialysis access procedures like AV fistula, AV graft and Perm Cath insertion, also the stroke prevention procedures like carotid endarterectomy, stenting and management of diabetic foot wounds.
Dr. A Arun completed his MBBS from Sri Devaraj urs Medical College and Hospital, and MS in General Surgery at JSS Medical College and hospital Mysore and MCH in Vascular surgery at Sri Ramachandra institute of higher education and research, Chennai. He has been trained in the management of complex peripheral vascular conditions both open vascular surgeries as well as minimally invasive endovascular interventions.
Area of expertise
Peripheral vessel angioplasty & stenting for Peripheral Arterial Diseases (PVD)
Surgical Bypass procedures for Peripheral Arterial Disease (PVD)
Embolectomies for Acute limb ischemia
Diabetic Foot management
LASER treatment for Varicose Veins
Radiofrequency ablation of Varicose Veins
Foam sclerotherapy for Varicose Veins
Open Varicose Vein surgery
Dialysis Access Surgeries - AV Fistula, AV grafts, Basilic vein Transposition & Permcath insertion
Minimally invasive dialysis access salvage procedures [Central venous angioplasty & access angioplasty]
Venous ulcer management by specialized compression dressings
Endovascular Repair of Abdominal Aortic Aneurysms [EVAR]
Open Abdominal Aortic Aneurysm Repair
Catheter Directed Thrombolytic Therapy for Acute Deep Vein Thrombosis
IVC filter placement
Stroke prevention procedures like carotid endarterectomy and stenting Carotid Endarterectomy
Treatment of Carotid Body Tumour
Renal artery stenting
Thoracic Outlet Syndrome.
Awards and recognitions
First place in Vascular Society of India MIDTERM MEET - 2021
Comparative study of outcomes between patients who underwent femoral distal bypass with atherosclerotic and TAO presenting with critical limb ischemia – VISICON 2021
A rare case of nutcrackers syndrome with gonadal vein aneurysm – VSICON 2020
Best paper presentation ASICON - 2017 - II Prize
Best poster presentation ASICON - 2017 - III Prize
Irrigation of Bupivacaine at Surgical bed for postoperative pain relief after laparoscopic cholecystectomy – publication