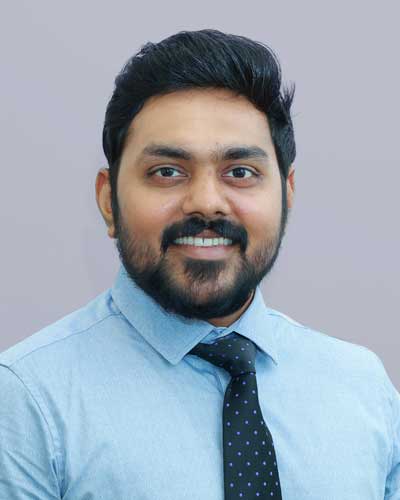 Dr. Anugrah Nair
Senior Specialist - Cardiology
DM (Cardiology), DNB (General Medicine), MBBS
Overview
Dr. Anugrah Nair, specialist with DM degree in Cardiology from  Amrita Institute of Medical Sciences - Kochi, DNB in General Medicine from Asian Institute of Medical Sciences - Delhi and MBB in MGM medical college - Aurangabad, Maharashtra. The area of interests are Coronary interventions, Heart failure, and Electrophysiology.
Area of expertise
Coronary interventions
Heart failure
Electrophysiology
Awards and recognitions
Publications
Thachathodiyil R, Nair A, Chandrasekhar R, et al. Association of LpPLA2 with coronary artery disease a hospital-based case control study. Int J Clin Biochem Res 2021;8(4):297-303 
Nair A, Pruthi P, L S, Marwaha V, Surendran S, Tiwari A, Mathew AR. Assessment of Disease Activity in Rheumatoid Arthritis: A Comparative Study of Clinical and Laboratory Evaluation with Musculoskeletal Ultrasonography Assessment. J Assoc Physicians India. 2022 Feb;70(2):11-12. PMID: 35436826.
Pruthi P, Arora P, Nair A. Venipuncture induced complex regional pain syndrome presenting as inflammatory arthritis. Case Rep. Med. 2016, 8081401 (2016).https://doi.org/10.1155/2016/8081401.
Kumar J , Sultana W, Mungada H, Pruthi P, Nair A. Effect of acute potassium reduction during dialysis on blood pressure in patients of chronic kidney disease. Nephrology Dialysis Transplantation, Volume 32, Issue suppl_3, May 2017. Pageiii326. https://doi.org/10.1093/ndt/gfx152.SP571.

Achievements 
National Award: Heart Failure Association – Best Dissertation Award in Cardiology 2022 . 
Research featured in the American Heart Association conference: ACC/AHA Middle East October 2022.
Participated as student expert twice in the PHFI Cardiology Masterclass 2022. 
Presented an Electrophysiology case in Indian Heart Rhythm Society Meet. 
Indian Academy of Echocardiography 2022– 2 Echocardiography Case Presentations.
APICON 2017 Mumbai- Paper Presentation: Assessment of Disease Activity in Rheumatoid arthritis. 
Selected as a Speaker in the upcoming Cardiology Society of India national conference in December 2022