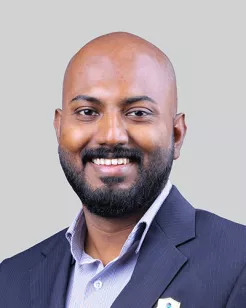 Dr. Jithin C Shaji
Senior Specialist - ENT and Head & Neck surgery
MBBS (JIPMER) , MS ENT (AIIMS, New Delhi)
Overview
Dr. Jithin C Shaji earned his MBBS degree in 2012 from the prestigious JIPMER, Puducherry, an institute of national importance. He further pursued his Master of Surgery (ENT and Head & Neck Surgery) from the premier All India Institute of Medical Sciences, New Delhi (AIIMS, New Delhi). After completing his post-graduation, he worked as a Senior Resident at AIIMS, New Delhi for 3.5 years where he was trained extensively in basic and advanced surgeries in ENT, Skull base, Head & Neck, and oncological surgical procedures. Prior to joining Aster Mother hospital, he was working as a Consultant at Ascent ENT Centre in Palakkad, Kerala.
Dr. Jithin is capable of managing all ENT emergencies, ranging from foreign body removal to emergency tracheostomies (including Pediatric and Neonatal Tracheostomy). He is vastly experienced in common ENT surgeries like Tympanoplasty, Myringoplasty, Mastoidectomy, Ossiculoplasty, Septoplasty, Micro laryngeal surgery for vocal cord lesions, Pediatric ENT surgeries like Adenoidectomy, and Tonsillectomy. He is highly proficient in extensive ENT surgeries like Thyroidectomy (Benign and Malignant), Parotidectomy, Tracheal Resection and Anastomosis, Facial nerve decompression surgery, Submandibular gland excision, Maxillectomy, Oral cancer surgeries, and various types of neck dissections.
He is an expert in Endoscopic surgeries like FESS, endoscopic DCR, Orbital decompression, Optic nerve decompression, and Skull base surgeries like Endoscopic CSF leak repair. He is also trained in special surgeries like Uvulopalatopharyngoplasty for the treatment of snoring. His special area of interest is Head and Neck, Skull base, and Endoscopic sinus surgeries. Dr. Jithin has authored several publications. He has attended various national and international conferences and has been part of various hands-on workshops.
Experience
3 years of teaching experience as a junior resident at AIIMS, New Delhi
3.5 years of teaching experience as a senior resident at AIIMS, New Delhi
1 year as consultant ENT and Head & Neck Surgery at ASCENT ENT center.
Awards and recognitions
Erection of pinna published in BMJ case reports
Early decannulation for RRP - the "on table" decannulation published in the European Journal of Biomedical and Pharmaceutical Sciences
He contributed as a resource person in the "Ear Screening Camp" organised by the National Programme for Prevention and Control of Deafness, Ministry of Health and Family Welfare, Government Of India.
Other Similar Doctors