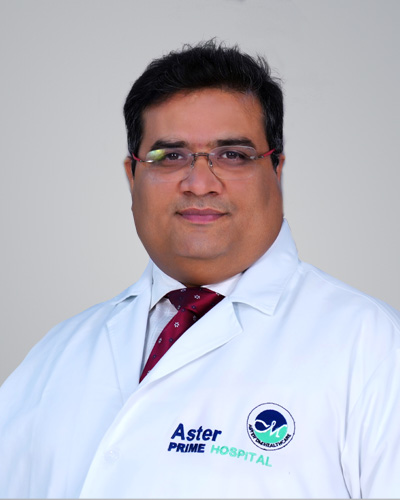 Dr. C Raghu
Head - Interventional Cardiologist
MBBS,MD,DM,FACC,FSCAI,FESC
Overview
Dr. Raghu is a Heart Specialist and a consultant Cardiologist at Aster Prime Hospital. He had completed MBBS from Guntur Medical College, Andhra Pradesh in 1990.
Dr. Raghu did his MD in General Medicine from All India Institute of Medical Sciences, New Delhi in 1994. He obtained DM in Cardiology from Nizam Institute of Medical Sciences, Hyderabad in 1998.
Dr. Raghu is a member of the Indian Medical Association (IMA), Association of Physicians of India, Cardiological Society of India (CSI), Society for Cardiovascular Angiography and Interventions Foundation, and Asia Pacific Society for Interventional Cardiology.
Work experience
He started his career as an Assistant Professor Cardiology at Nizam's Institute of Medical Sciences between 1999 to 2000. 
He was appointed as Consultant Cardiologist at Yashoda Super Speciality Hospital, Malakpet from the year 2000 to 2001.
He joined fellowship for Interventional Cardiology at CPS in Paris from the year 2001 to 2002.
He was appointed at Yashoda Hospitals, Somajiguda as a Consultant Cardiologist and Director at the Cath Lab from the year 2002 to 2007.
Area of expertise
Cardiac Catheterization
Implantable cardioverter-defibrillators (Icds)
Patent ductus arteriosus device closure
Balloon mitral valvuloplasty
Complex angioplasty procedures (performed more than 13,000 angioplasties)
Trans-radial coronary angiography (performed nearly 30,000 procedures)
Post bypass graft angioplasty
Rotablation angioplasty for complex cases
Non-surgical closure of the ventricular septal defect
Atrial septal defect and patent ductus arteriosus
Stent procedure for aortic aneurysm and dissection
Renal denervation for resistant hypertension
Novel therapy for hypertension
Pacemaker implantation-single chamber
Dual-chamber
Implantable cardioverter-defibrillator for ventricular tachycardia
Cardiac-resynchronization therapy for heart failure
Carotid
Subclavian
Mesenteric & celiac
Renal arteries' stenting
Lower limb angioplasty
Stenting for claudication and gangrene
Below-knee angioplasty
Scientific and empathic decision-making for complex cardiovascular situations
Awards and recognitions
Recognition for his achievements in Interventional Cardiologist as Best Young Interventional Cardiologist (Less than 40 years) in 2007 at Singapore Live based on a competitive evaluation of angioplasties performed
General Cardiologist: Sri Krishna Memorial Gold Medal for the best clinical research work compassionate resident towards his patients in the year 1992 at the All India Institute of medical sciences
Public Health Education on cardiac ailments Best health analyst award in the year 2008 for Electronic Media Awards
Rising Star Award under Cardiology Category by the Times of India in the year 2017