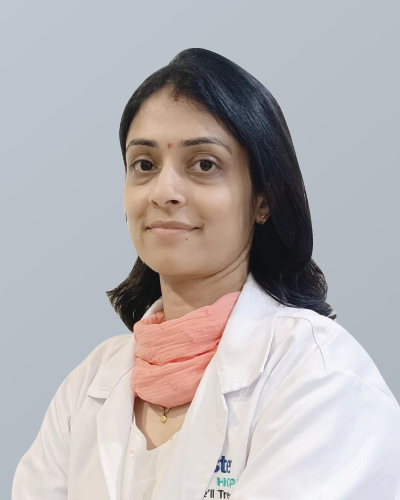 Dr. Reetha BT
Consultant - Ophthalmology
MBBS, DOMS, MS, DNB (Ophthalmology)
Overview
Dr Reetha B T is a highly accomplished and skilled ophthalmologist registered under Karnataka Medical Council, India. Presently she is working as a opthalmologists at Aster RV, Bengaluru. She has a diverse range of qualifications and specialised training.
She completed her MBBS in 2007 from Dr B. K Ambedkar Medical College, Karnataka. She later pursued a Diploma in Ophthalmic Medicine and Surgery (DOMS) from Mysore Medical College & Research Institute in 2011 followed by an MS (ophthalmology) from the prestigious Christian Medical College, Vellore in 2014. Dr Reetha also holds a DNB (Diplomate of National Board) certificate in Ophthalmology.
Recognizing the importance of furthering expertise, Dr. Reetha pursued a Fellowship in Glaucoma in 2016, solidifying her proficiency in the management of this sight-threatening condition. Additionally, in 2017, she underwent rigorous short-term surgical training in Phacoemulsification, a cutting-edge technique in cataract surgery.
Dr Reetha has a wealth of experience across various prestigious institutions. Dr. Reetha's journey in ophthalmology began as a Senior Resident at ACS Medical College in 2016.
Before joining Aster RV, she was associated as a Consultant at Apollo Telehealth and as a Visiting Consultant at Bhagwan Mahaveer Jain Hospital. Before this, she was a Consultant at B.B.M.P Hospital from 2018 to 2020. She was also associated with Vittala Nethralaya, Minto Eye Hospital, Belaku Eye Hospital, CMC, Vellore, Fortis Hospital, Bannerghatta Road, Bangalore and Meenakshi Hospital in various roles and capacities in the past. Dedication to patient care, extensive training, and wealth of experience make Dr. Reetha a highly respected and sought-after eye care specialist in her field.
Area of expertise
Glaucoma and Anterior segment
Awards and recognitions
Papers published/Poster presentation
E-Journal: Vogt-Koyanagi_Harada disease in an 8-year-old girl: e-Journal T.N.M.G.R.U. 2014

AUDIT-Understanding importance of instillation of topical eye drops in camp (rural) patients after cataract surgery before discharge in Schell Eye Hospital-CMC Vellore (2014)

Poster presentation- Vogt-Koyanagi_Harada disease in an 8-year-old girl in the vitroretinal disease session at the Grand eye Quest-2012, 61st annual conference of Tamil Nadu Ophthalmic Association held in Chennai in August 2013.
Conference and Workshops
KSOC-State conference at Udupi, Karnataka - November 2010

69th AIOC-All India Ophthalmic Conference at Ahmedabad - February 2011

CME -An Update in Paediatric Ophthalmology at CMC Vellore - January 2013

11th Scientific Symposium on Endocrine Tumours at CMC Vellore - July 2013

61st Annual Conference of Tamir Nadu Ophthalmic Association: state conference at Chennai- August 2013

CME on Cornea and Ocular-surface, Highlights, at CMC Vellore-January 2014

CME- Glaucoma Advanced 2015 at Bangalore - January 2015

 KOSCON - State conference at Bangalore – November 2017

 BOS (Bangalore Ophthalmic Society) summit at Bangalore – June 2018

 CME: COVERx (Congress on Optic nerve vasculature and emerging treatment) – August 2018

 KSOC - State conference at Mangalore, Karnataka - December 2O18

 KOSCON 2020 - State conference - Virtual: December 2020

 KOSCON 2021 -State conference - Virtual: December 2021

BOSSUMMIT at Bangalore, Karnataka – July 2022
Other Similar Doctors