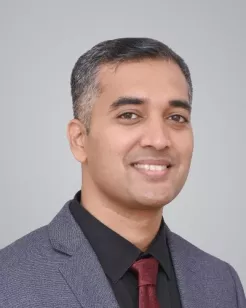 Dr. Sampath Shettigar
Consultant - Paediatrics & Neonatology
MBBS, MD (Paediatrics), Fellowship - National Neonatology Forum, Fellowship RCPCH-UK from London, PGPN from the Boston University, USA
Overview
Dr. Sampat Shettigar has completed his MBBS, MD (Paediatrics , Fellowship - National Neonatology Forum, Fellowship RCPCH-UK from London and  PGPN from the Boston University, USA. He started his Paediatric journey from 2010, with an overall experience of over 12 years in the field of Paediatrics and Neonatology. 
After completing his MBBS and MD (Paediatrics) from the Rajiv Gandhi University of Health Sciences, Bangalore, he started his career as a medical officer with the NRHM, a government scheme targeted at improving maternal and Paediatric health, where he was instrumental in implementing in Mangalore, India.
He then moved to Bangalore in 2014, where he started his career as a Consultant Paediatrician at a reputed Maternity & Child Health Centre. He successfully completed his PGPN certification from Boston University, USA in 2017. He moved to the UK in 2017, where he worked at Tertiary level NICUs, learning the nuances of Neonatology at the renowned Hammersmith Hospital & St Mary's Hospital, associated with the Imperial College at London, UK. He obtained his Fellowship in Neonatology certification from the prestigious Royal College of Paediatrics and Child Health, in the UK, after which he returned to Bangalore to impart exceptional Neonatal and Paediatric care. He is passionate about teaching and training, having trained dozens of doctors and nurses as a registered NRP provider. Along with treating newborns requiring tertiary-level NICU care, he also has a special interest in point-of-care ultrasound, proficient in basic neonatal ultrasonography and echocardiography.
He is currently practising at Aster Women and Children Hospital, Whitefield Bangalore as a Consultant Paediatrician and Neonatologist.
Area of expertise
Newborn Intensive Critical Care 
Treating babies with respiratory distress after birth 
Treating Birth Asphyxia, Therapeutic hypothermia (newborn cooling) 
Babies born through meconium (Meconium Aspiration Syndrome), Inhaled Nitric Oxide Therapy 
NICU care for preterm babies (born above 23 weeks of pregnancy ) 
Managing newborns with congenital anomalies, genetic defects
Awards and recognitions
Medical Officer - National Rural Health Mission 
Postgraduate programme in Preterm Nutrition - Boston University, USA 
Fellowship in Neonatology, National Neonatology Forum 
Neonatology Fellowship (RCPCH), Imperial College, London 
Lifetime member Indian Academy of Paediatrics 
Lifetime member - National Neonatology Forum
NLS provider, Royal College of Paediatric & Child Health, London
NRP provider, Indian Academy of Paediatrics