Aster Nurture
Women represent the cornerstone of the world's health at large. We, at Aster Prime, are determined to make sure that every pregnant woman that walks into the welcome confines of our hospital, feels at home and is well taken care of. From the moment of conception to the moment of childbirth and beyond, our obstetrics and gynaecology department ensures personal and overall care for the mother and the baby.
Avail a 9-Month Comprehensive Maternity Package at the Best Pricing. Share your details and Get a Call back!
Obstetrics & Gynecology Doctors

Dr. Meera Raja Gopal
Sr. Consultant Obstetrics & Gynaecologist
MBBS, MD, MRCOG
With over 30 years of experience in Obstetrics & Gynaecologist, Dr. Meera has studied and practiced in her field around the globe in prestigious institutions like Royal Sussex County Hospital, United Kingdom; St. Thomas Hospital, London and Maidstone Hospital.
Areas of expertise:
Antenatal Services, Deliveries, Cesarean Sections, High Risk Pregnancy Care, Anti-natal Care, Post-natal Care, Bad Obstetric History Care, Laparoscopic Procedures, Infertility.

Dr. P Tanuja
Consultant Obstetrics & Gynaecologist
MS - Obstetrics and Gynaecology
Dr. Tanuja has over 5 years of experience and during which she has worked with many hospitals like Rainbow hospitals, Mamta Academy of Medical Sciences and Vijaya Hospitals.
Areas of expertise:
Antenatal Services, Deliveries, Cesarean Sections, High-Risk Obstetrics, MTP Services, Infertility Gynecological Services, Hysterectomies, Fibroid Removal Surgeries.
Paediatrics & Neonatology Doctor

Dr. T Narender
Consultant Paediatrician & Neonatologist- (New Born, Children & Adolescent Specialist)
MBBS, MD - Pediatrics (Gold Medalist), MRCPI (Ireland), Fellow Neonatology (Kochi), Fellow Neonatology (London), Fellow Pediatrics (UK)
Dr. T.Narender is a Consultant Paediatrician & Neonatologist (New Born, Children & Adolescent Specialist) at the best pediatric hospital in Hyderabad - Aster Prime. He had completed his MBBS from Andhra Medical College and King George Hospital, Visakhapatnam in 1997. He had completed his MD in Paediatrics from Rangaraya Medical College, Kakinada in 2001.
Areas of expertise:
Asthma, Allergic rhinitis, Chronic cough, Breathing difficulty, Fever, Common cold, Food allergies, Skin infections, Diarrhea, Vomiting, Abdominal (stomach) pain, Ear nose and throat problems, Nutrition counseling for new born, infants, children and adolescents, Developmental and behavioral disorders, Immunisations, Growth disorders, etc.
Radiology & Imaging Doctors

Dr. Pravin Sudhakar Patil
Senior Consultant Radiologist
MBBS, DMRD, DNB
Dr. Pravin has over 13 years of experience and he is associated with Indian Radiology & Imaging Association (IRIA) and Indian Medical Association.
Areas of expertise:
Radiography, Ultrasound, CT / MRI, Ultrasound-guided procedures / Investigations, CT guided procedures, MR arthrography, US-guided & soft tissue injections, US-guided sclerotherapy, and US-guided Laser / RF ablations.

Dr. G Venkata Raman
Consultant Radiologist
MBBS, DNB
Dr. Venkata Raman has completed his MBBS from G.S.L Medical College Rajahmundry. He has worked with Care Hospitals, First Health and Vijaya Diagnostic Centre.
Areas of expertise:
Ultrasound, Prenatal Scans, USG guided procedures-Aspiration, FNAC, Biopsies, Colour Doppler Scans-Arterial, Venous, Obstetrics Renal, Portal Doppler AFV, Neurosonography, MSK, 3D & 4D Scans, USG guided Injections, CT-Plain & Contrast Studies, MRI-Spine, Musculoskeletal, MRCP, Brain, X-Ray, RGU.

Dr. N Nithin Kumar
Consultant Radiologist
MBBS, DNB
Dr. Nithin has completed his MBBS from prestigious Osmania Medical College.
Areas of expertise:
Ultrasound, Prenatal Ultrasound Imaging, Colour Doppler - Arterial, Venous, Renal, Obstetrics, Ultrasound-Guided Procedures - FNAC, Aspirations, CT Imaging & CT guided lung biopsy, MRI brain, spine, shoulder & knee, X-Rays and Radiographic procedures.
The package is designed to cover all your pregnancy needs from conception till delivery.
Blood Grouping And Typing
Complete Blood Picture
Thyroid Stimulating Hormone (TSH)
Random Blood Sugar
Human Immunodeficiency virus (HIV)
Hepatitis B Surface Antigen (HBsAg)
Venereal Disease Research Laboratory (VDRL)
Complete Urine Examination
From 12th week Onwards Till Delivery
Double Marker
Complete Blood Picture*3
Thyroid Stimulating Hormone (TSH)*2
Random Blood Sugar (RBS)*2
Complete Urine Examination (CUE)*2
Oral Glucose Tolerance Test (OGTT)
Cardiotocography (CTG)
Viability scan - 9 weeks
NT scan 12 to 13 weeks
Tiffa scan at 20 to 22 weeks
First Growth scan - 28 to 30 weeks
Late growth scan - 36 to 38 weeks.
Room rest & nursing charges
Delivery Procedure
Cardiotocography monitoring during delivery
Minor Surgical profile
Why Aster Prime
Aster Prime is the only hospital in Hyderabad / Telangana that offers the best treatment at economical prices. The most effective and affordable pregnancy packages in the city of Hyderabad are now available at Aster Prime. We have multispecialty departments i.e. General Medicine, General Surgery, Pediatrics & Neonatology, Pediatric Surgery, Cardiology, Neurology.
Our Round-the-clock Critical Care team makes it easier to manage every high presence of pregnancy like GDM, Heart disease in pregnancy etc. We also have available 24/7 advanced Laboratory & Radiology services, Blood Bank services & fully equipped Critical Care wards for high-risk pregnancies.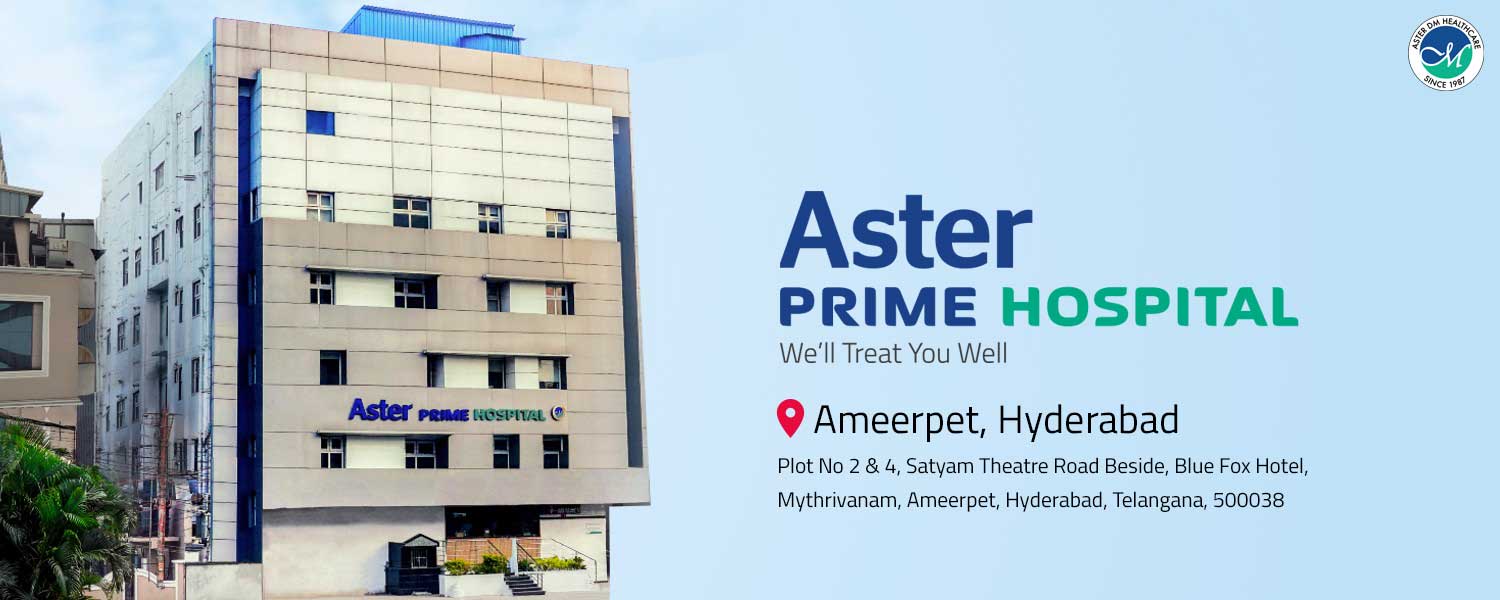 Frequently Asked Questions
When to see an obstetrician after getting pregnant?
After the exhilaration of a positive pregnancy test, we encourage you to make an appointment as soon as possible for a visit and an ultrasound to help determine how far along you are in the pregnancy.
We also screen for medical issues that need an immediate evaluation and/or treatment. Ideally, we would like to start prenatal care by about one or two months after your last menstrual period.
How many appointments will I need throughout my pregnancy?
Prenatal care during pregnancy is absolutely essential. "This consistent care can help keep you and your baby healthy, spot problems if they occur, and prevent problems during delivery".
Routine checkups usually occur:
Once each month, from week four through week 28

Twice a month, from week 28 through week 36

Weekly from week 36 until you give birth.
The above schedule may change slightly, depending on your pregnancy and your OB-GYN's practice policies. Be sure to speak with you doctor for a complete schedule of your prenatal appointments.
What can I do to ensure a healthy pregnancy?
Be sure to address any medical issues prior to conception. For example, controlling blood pressure, optimizing blood sugars, and managing any clinical medical conditions before pregnancy leads to a healthier pregnancy outcome.

Diet and exercise are critical to getting pregnant and having a healthy pregnancy and baby. It can also help to minimize pregnancy discomfort such as nausea and constipation.

If you're on medications for any reason, you should review them with your doctor ahead of time to determine if they're safe to take during pregnancy. In some cases, the doctor can lower the dosage to safer levels if it's a medication you really benefit from.
It's best to avoid any over-the-counter remedies for common ailments early in your pregnancy unless you speak with your doctor first. There are also some prescription drugs that can be harmful to you or your baby during pregnancy, including seizure medications, certain antibiotics, and medications for anxiety.
Can I still exercise during my pregnancy?
NICE guidelines reports that you can indeed exercise throughout your pregnancy. "Unless your doctor tells you not to, try to get at least two hours and 30 minutes of moderate-intensity aerobic activity a week".
To maximize the health benefits of working out during pregnancy, and to keep you and your baby safe, spread out your workouts throughout the week. "If you worked out regularly before pregnancy, you can keep up your activity level as long as your health doesn't change and you talk to your doctor about your activity level throughout your pregnancy,".
Physical activity and regular exercise during pregnancy can improve common discomforts such as backache and fatigue, and can increase the likelihood of early recovery after delivery. In general, most kinds of aerobic, resistance, and flexibility exercises like yoga are safe during pregnancy.
What is high blood pressure during pregnancy?
High blood pressure caused by pregnancy is called preeclampsia.
Preeclampsia or gestational hypertension, refers to high blood pressure (hypertension) caused by pregnancy. Many pregnant women with high blood pressure have healthy babies without serious problems.
Any pregnancy-related symptoms that I should worry about?
Certain pregnancy symptoms, such as nausea, fatigue and weight gain are fairly common. However, other symptoms can be a sign of trouble. For instance, bleeding with abdominal pain could be a sign of a miscarriage or tubal pregnancy. If you're dealing with round-the-clock nausea and vomiting beyond the first trimester and are unable to keep anything down, you may be suffering from hyperemesis gravidarum (HG). Although rare, HG can lead to malnutrition and dehydration, which can be harmful for the baby.
After 20 weeks, if you experience a persistent severe headache, visual disturbances and swelling, you may be suffering form preeclampsia – a serious condition for both moms and babies. If left undiagnosed, preeclampsia can lead to eclampsia, which includes seizures and a less than optimal pregnancy outcome.
If you ever experience any unusual symptoms throughout the course of your pregnancy, don't hesitate to call your Doctor. It's better to be safe than sorry.
How Can I Prevent Stretch Marks?
Approximately 90-percent of pregnant women develop stretch marks as their body grows during pregnancy on the stomach, thighs, buttocks, and breasts. You don't have to be in the majority! You can do your part to prevent stretch marks by drinking lots of water to keep skin hydrated, by massaging your skin daily with a moisturizer or oil that's high in vitamin A and vitamin E (i.e., cocoa butter) to prevent stretch marks, and increase circulation and tissue repair; and by consuming a diet that's rich in skin-supporting vitamins—E, C, A, and zinc.
How will I know when it's time to go to the hospital?
Clock your contractions to track when they start, how long they last and time between each. This is a good indicator of how soon the first stages of labor will start. "With true labor, contractions become regular, stronger and more frequent,". These contractions will also establish a regular pattern and not taper off or go away, even if you change position or alter your activity.
"If you ever are unsure if contractions are true labor, call your doctor,". A quick phone chat will ease your mind and help you understand if you need to stay home and wait a bit longer, or jump in the car and head to the hospital.
What should I look for when selecting an obstetrician?
Choosing an OB/GYN (obstetrician/gynecologist) is an important task and personal decision. You should select an OB/GYN you can easily talk to and who takes the time to answer your questions. He or she should be able to sit down with you during your visit to address any issues and/or concerns.
The following are some key questions to ask prospective OB/GYNs:
Which hospital(s) the OB/GYN regularly performs deliveries?

How often he or she will be the physician at your birth?

How accessible is your OB/GYN if you have questions after-hours?
How many ultrasounds will I have?
Ultrasound exams can be performed at any point during pregnancy, but they aren't always considered a routine prenatal test. Most OB-GYNs suggest moms-to-be have at least 5:
The first test usually occurs during your first trimester

 

at 6 to 8 weeks as part of viability to know the location of fetus and to see the cardiac activity and to date the pregnancy.

The second test is called Nuchal Translucency scan done at 12 to 14 weeks

The second is typically scheduled between 18 and 20 weeks, "to look for signs of problems with the baby's organs and body systems and confirm the age of the fetus and proper growth,"

The first growth scan at 28 to 32 weeks

The Late growth scan at 36 weeks
What is the guide to building a healthy diet?
Three daily servings of vegetables – broccoli, carrots, tomatoes and leafy greens

Two

 

servings of fruits – apples, oranges, berries and bananas

Three to six daily servings of grains (ideally whole grains) – oatmeal, quinoa, popcorn, whole-wheat pasta and bread, barley and brown rice are some examples of whole grains

Three

 

to six daily servings of lean protein – skinless poultry, fish (twice per week), eggs, beans, peas, soy products, nuts and seeds

Three daily servings of dairy – low-fat milk, yogurt or cheese

Limit processed foods, sweets and fats
Also, drink plenty of water and limit sugary drinks like soda and decadent coffees
In addition to a healthy diet, low-impact exercise such as walking, swimming and yoga – for 30 minutes every day – can help prevent excessive weight gain, improve and maintain fitness, reduce stress, boost mood, and regulate blood pressure and glucose levels. However, speak with your provider before starting any exercise programs while pregnant.
How to relieve the symptoms of morning sickness?
Morning sickness - Nausea and vomiting are common symptoms of early pregnancy. In most cases, remedies are available for relief of nausea and vomiting. Nausea and vomiting associated with pregnancy can be affected by the amount of food eaten, and what time it was eaten. To manage nausea and vomiting during pregnancy:
Avoid greasy, fried, or spicy food

Eat smaller meals

Eat more frequent meals

Eat bland foods like toast and crackers
How much weight should I gain during pregnancy?
"You should gain weight gradually during your pregnancy, with most of the weight gained in the last three months," according to the USDA Center for Nutrition Policy and Promotion.
The government agency suggests women gain weight at the following rate:
1 to 4 pounds total during the first three months (first trimester)
2 to 4 pounds per month during the fourth to ninth months (second and third trimesters)
The total amount you gain during pregnancy depends on your weight at the time of conception. For women who maintained a healthy preconception weight, the USDA suggests gaining between 25 and 35 pounds. Be sure to speak with you doctor to find out what rate and amount of weight gain are right for you
How Do I Calculate My Baby's Due Date?
The average pregnancy lasts 280 days from the last menstrual period, or more precisely, 266 days following your last ovulation cycle (or approximately 40 weeks). Remember this will be an estimate and not a definite certainty.
A quick trick to estimate your due date is to subtract 3 months, then add a week to the first day of your last menstrual period. If your period is regularly every 4 weeks, this should be a fairly accurate estimate.
Why Is My Doctor Screening For Gestational Diabetes?
Many doctors do routine tests for gestational diabetes for pregnant women who are older than 25-years-old, have a family history or ethnicity that is prone to the condition, are obese, have delivered a baby over 9-pounds in weight, or have had a previous instance of gestational diabetes with another pregnancy.
The condition affects approximately 10-percent of all pregnancies and is caused by hormonal shifts that lead to glucose intolerance that can affect both mom and baby—just while pregnant.