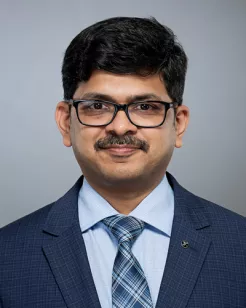 Dr. Prashanth Y M
Sr. Consultant - CTVS Surgery
Overview
Dr. Prashanth has extensive experience in the field of adult and paediatric cardiac surgery, having been involved in over 6000 procedures. He specializes in all forms of adult cardiac surgeries, with his areas of interest including beating heart bypass surgeries, minimally invasive cardiac surgeries (MICS), valve repairs, surgeries for atrial fibrillation.
Having completed his MBBS from Karnataka Institute of Medical Sciences, Hubli, in 1999, he went on to specialize in General Surgery from Bangalore Medical College (2003). He then completed his MCh – Cardiovascular and Thoracic Surgery from Sri Chitra Thirunal Institute of Medical Sciences and Technology, Trivandrum, in 2007.
Dr. Prashanth worked in leading multi-specialty hospitals prior to joining Aster group of hospitals in 2018.
Area of expertise
Adult Cardiac Surgery
Coronary bypass surgery- off pump; multi arterial
Minimally Invasive Valve surgery, MICS CABG
Valve repairs and replacements
Aortic Surgery - conventional; hybrid/TEVAR
Robotic Cardiac Surgery
Transcatheter Aortic Valve Replacement - TAVR/ TAVI
Heart transplantation, Extra corporeal life support, LVAD's
Thoracic Surgery
VATS
Robotic thoracic surgery
Paper Published
Comparative study of single- and double-patch techniques for sinus venosus atrial septal defect with partial anomalous pulmonary venous connection. Anand P Iyer, Krishnamanohar Somanrema, Sameet Pathak, Prashanth Y M, Suraj Pradhan, Shyam Krishnan. PMID: 16798243. DOI: 10.1016/j.athoracsur.2005.09.011
Supracardiac total anomalous pulmonary venous connection with a supramitral ring: a rare, surgically correctable anomaly. Anand P Iyer, Arunkumar Haridas, Sameet A Pathak, Rajnish Duara, Prashanth Y M, Sooraj Pradhan, Krishnamanohar S Rema
An unusual case of Aspergillus endocarditis of native aortic valve following ECMO. S. Nanditha, GaneshKrishnan K T Iyer, B Raghu, Prashanth Y M, Vikas Yadav. PMID: 32421068. DOI: 10.1007/s12055-020-00950-z
Other Similar Doctors