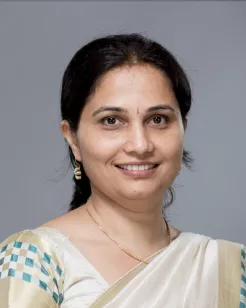 Dr. Divya Shree K R
Consultant - Psychiatrist
Overview
Dr Divya Shree K R is a Consultant Psychiatrist at Aster CMI Hospital in Bangalore.

She completed her M.B.B.S from Bangalore Medical College in May 2002 and D.P.M from National Institute of Mental Health And Neurological Sciences, (NIMHANS) in May 2007. She completed sub-speciality education with a Certificate course in Palliative care on 5th January 2009. It is a 6week course by the Indian Association of Palliative Care.
 
Experience:
She was a consultant Neuropsychiatrist and in charge of De-addiction People Tree hospital Yeshwantpur from December 2013 before joining Aster CMI Hospital.
She was a Research Officer in AIIMS, New Delhi from April 2012 to May 2013
She has experience as a Consultant Psychiatrist at ISIC super speciality hospital in New Delhi from March 2011 to March 2012.
She has experience as a Junior Consultant VIMHANS in New Delhi from December 2010 to March 2011.
She was a Senior Resident and in charge of the Department of Psychiatry at Bowring Hospital, Bangalore. Medical College and Research Institute, Bangalore, India during 30th April 2010 to July 2010.
She was a Resident in the Department of Psychiatry at Amrita Institute of Medical Sciences in Cochin, Kerala, India during 1st Feb 2008 to 8th Feb 2010.
She was a tutor at Christian Medical College, Vellore, India from August 2007 to December 2007.
She was a Junior Resident at National Institute of Mental Health and Neurosciences (NIMHANS) in Bangalore, India from May 2005 to May 2007.

Research Experience:
She was a co-investigator for the study "EFFECTS OF LITHIUM-ECT COMBINATION TREATMENT: A COMPARATIVE STUDY." The results were published in the Indian Journal of Psychological Medicine in 2007 The prospective study which enrolled about 30 patients on Lithium who were administered ECT along with an alike number of patients as controls who were ECT alone. The study was carried to determine the difference in cognitive side effects of the two groups. It is the first such study to be conducted in this field. In 2006, the study won the South Zone award for Young Researchers at the Indian Psychiatric Society Conference.
She completed a study titled "PREVALENCE OF PSYCHIATRIC MORBIDITY IN CHILDHOOD ASTHMA" in December 2009. The study threw up some novel data about the uniqueness of psychiatric morbidity faced by Indian asthmatic children. It has been tendered to Indian Pediatrics (Journal) for publication and is presently under peer review.
She was a primary investigator for a short term research project titled "UTILITY OF THE YAMAGUCHI ET AL CRITERIA FOR THE DIAGNOSIS OF SOJIA IN COMPARISON TO THE ILAR CRITERIA. "The project was sponsored by the Pediatric Rheumatology Clinic in Amrita Institute of Medical Sciences and completed successfully in Jan 2010. The results of the study were presented at the EULAR conference held in Rome in June 2010.
She was a Research Assistant for the study named " A STUDY OF THE ASSOCIATION BETWEEN HYPERMOBILITY AND CHRONIC MUSCULOSKELETAL PAIN: A PILOT STUDY." It is also known as HAMS study. The study protocol was published on the national clinical trials website hosted by NIH, USA and FDA, USA. NCT01032863. In March 2010, the study was completed and the results were shown at the EULAR conference in London in May 2011.
Teaching Experience:
Dr Divya Shree K R has a total teaching experience of 4 years and 4 months for undergraduate MBBS.

Publications:
Dr Divya Shree K R was 2nd author for "Effects of Lithium ECT combination treatment: A comparative study." It was published in Indian Journal of Psychological Medicine.
Dr Divya Shree K R was Co-author along with Dr Prabha Chandra (Professor of Psychiatry in NIMHANS) in the "Handbook of Psychiatry: A South Asia perspective"for the Chapter titled "Current Issues in Women's Mental Health in South Asia."

Psychiatry CME & Conferences:
Continuing medical training on ECT in NIMHANS on January 15th 2006.
Biological psychiatry symposium by the Indian psychiatric society in NIMHANS November 2008.
Postgraduate training program by the Indian psychiatric society of Cochin Kerala on 8th June 2008.
NIMHANS - RCPSYCH conference at NIMHANS in March 2010.
ANCIPS conference in NIMHANS in January 2013.