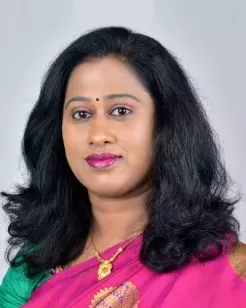 Dr. Madhavi Thuyamani
Consultant - Palliative Medicine
MBBS, DNB (Family Medicine)
Overview
Dr. Madhavi Thuyamani is a zealous, kind, empathetic, She is currently a dedicated Palliative Consultant at the best palliative care hospital in Hebbal, Bangalore - Aster CMI Hospital. She is committed to providing evidence based palliative medicine, conforming to international standards of medical care. She completed her MBBS from Dr. B. R. Ambedkar Medical College, Bangalore in 2007. She has built her practice over the years in the Corporate sector in the Emergency and Internal Medicine departments. Following her passion for internal medicine, with a special interest in managing Diabetes, she pursued her career by doing her DNB in Family Medicine at St. Martha's Hospital. It is during her career as a Family physician, that she developed a keen interest in Palliative Medicine.
Work Experience and Areas of Expertise:
Dr. Madhavi began her career in Medicine in Fortes Hospital, St. Martha's. Hospital and  Columbia Asia Hospitals. Dr. Madhavi joined Aster Clinics, Affiliated to Aster CMI Hospital in 2017. Through her years there she has had the experience of managing acute medical emergencies (Chest pain/ exacerbation of Asthma/ Severe pain due to renal calculi/ acute abdomen/ Hypertensive Crisis/ Diabetic emergencies); taking care of and performing Dialysis for End Stage Renal Disease patients at the clinic. On the other hand, she has a vast experience in managing Non-communicable diseases such as Obesity/ COPD/ Diabetes/ Hypertension/ progressive Renal Failure). She has conducted health camps and immunisation camps, with community education.  The struggles that are faced by Diabetics/ Renal Dis-ease patients/ those with stroke, especially in the Elderly, have prompted her to move from a successful Family Medicine practice to Palliative Medicine. Her skills in patient and family meetings, managing difficult communications are strengths in the field of Palliative Medicine. She is a great team player and understands the importance of inter-disciplinary care of a patient. With this background, 
Dr. Madhavi is passionate  to initiate and establish one of the kind Geriatric Palliative Services. 
Recognitions:
Faculty for DNB Palliative care programme 
Member of the Indian Association of Palliative care
Trainings Undergone:
Infectious diseases epidemiology and health promotion training course in association with Health protection agency, Birmingham, United King-dom – 18th to 22nd April 2011 
The EPEC – India Project (Education in Palliative and End-of-Life Care in India) 15th to 17th July 2021
Conferences Attended:
Continued Medical Education on recent advances in Polio Eradication, Measles Control and Routine immunization conducted by WHO - 3rd May 2013 
GAPIO –2016 Global association of Physicians of Indian origin - 6th National conference – 9th Jan 2016, Bangalore
Diabetes conference - ISLET - 10th Jan 2016, Bangalore
DEBATE 2016 - Diabetes, Endocrinology, Basic Science, Advances in Therapy and education - 29th to 31st Jan 2016
Academy of Family Physicians of India (AFPI) - State conference - 1st to 2nd Aug 2015
4th National Conference on Family Medicine and Primary care - 3rd to 4th Aug 2019