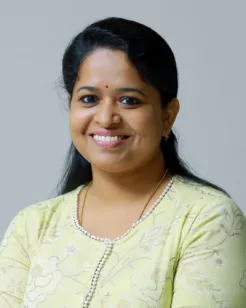 Dr. Sreeja K S
Senior Specialist - Physical Medicine & Rehabilitation
MBBS, DNB PMR ( gold medal), MNAMS
Overview
Dr. Sreeja KS completed her MBBS from Dr SMCSI Medical college , Karakkonam, Trivandrum. She pursued her post graduation in physical medicine and rehabilitation from Swami Vivekanad National Institute of Physical Medicine and Rehabilitation (2015- 2018). Passed post graduation with President gold medal from Diplomate of National Board. Later joined All India Institute of Medical Sciences, Bhubaneswar as Senior Resident (3 yrs) in Dept of PMR.
She has special interest in neurological and musculoskeletal rehabilitation. She is well versed in ultrasound guided interventions for pain and regenerative medicine in musculoskeletal conditions. She has also special interest in soft tissue surgeries done in rehab care. Sreeja is trained in rehab of neurological conditions like Spinal cord injury, stroke, traumatic brain injury, progressive neurological conditions, cerebral palsy.
Area of expertise
●    Ultra sound guided Pain Injection for Musculoskeletal conditions
●    Soft Tissues Surgeries for paediatrics and adults
●    Robotic Rehabilitation
●    Rheumatic Disease Management, 
●    Neuro-rehabilitation of Stroke, TBI, Spinal Code Injury, Cerebral Palsy  
 
Awards and recognitions
●    Passed post graduation in PMR with gold medal from Diplomate of National Board (DNB) 
●    Added to ' annual list of reviewers(2022)' in BMJ case reports for contribution in reviewing manuscripts. 
●    Invited as speaker in 7th International conference on spine and spinal disorder , may 2021 , and presented research paper in Spine 2021.
●    Reviewed a reasearch article Journal of advances in medicine and medical research- titled Cross sectional survey of chronic low back pain in bank workers in southern Nigeria.
●    Presentation in All India PMR conference, Chennai 2021 and won ' The Best Poster ' award.
●    Presentation in 11th World congress for Neurorehabilitation jointly with 35 th congress of the French society of Physical and Rehabilitation medicine. France 2020
●    Delegate in International MSK pain congress 2023
●    8 publications in international and national journals.( including pubmed indexed).
●    Participant in First International Online Conference of Society of integrated pain and palliative care (SIPP) on Improving Safety and patient outcomes in Pain Medicine.
●    Certificate of appreciation from All India Institute of Medical Sciences, Bhubaneswar for outstanding service rendered towards COVID -19 patient care.
●    Paper presentation in All India PMR annual conference, Calicut, Kerala 2020.
●    Paper presentation in All India PMR annual conference, Kolkata, West Bengal 2017.
●    Hands on workshop on Musculosketal Ultrasound in AIPMR annual conference 2020.
●    Part of workshop on Basic skill training in Rehabilitation surgery conducted by SVNIRTAR (10-13 April 2018) and demonstrated live surgical procedures for delegates.
●    Part of surgical camps conducted by SVNIRTAR in deformity correction (June 2017)
●    Special interest on Neurological Rehabilitation, Musculoskeletal Rehabilitation and Deformity correction surgeries.