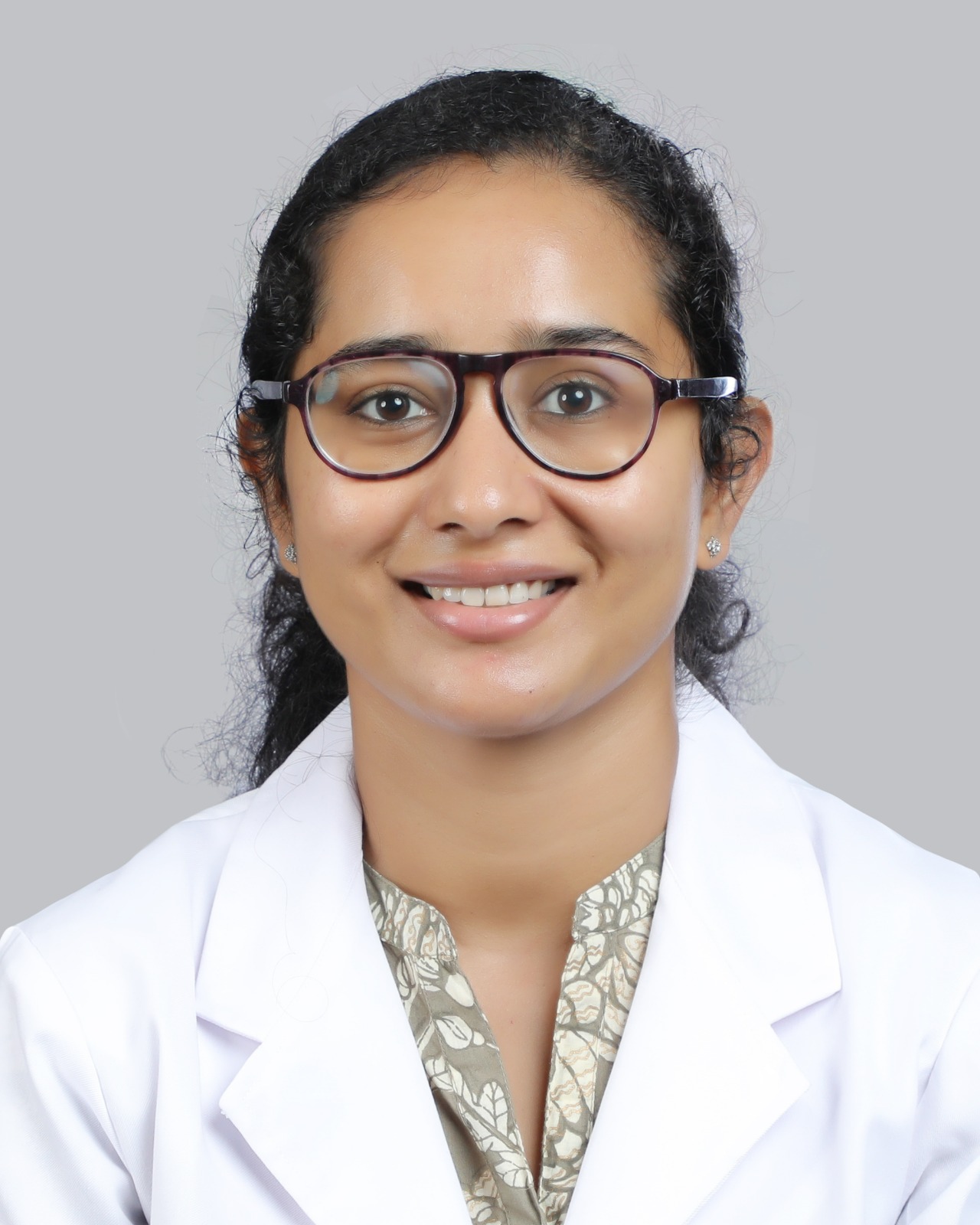 Dr. Dhanya S M
Senior Specialist - Visiting (Paediatric Endocrinologist)
MBBS, MD Pediatrics, Fellowship in Pediatric Endocrinology
Overview
Dr. Dhanya Soodhana Mohan is a Pediatric Endocrinologist who has done her fellowship in Pediatric and Adolescent Endocrinology from IGICH, Bangalore which is one of the largest Pediatric referral centres in Karnataka. Her training involved exposure to  a wide spectrum of Pediatric endocrine disorders.
Dr. Dhanya has completed her MBBS from Kasturba Medical College (2014) and secured a gold medal in MD Pediatrics from Government Medical College, Rajkot (2018) and her fellowship in Pediatric Endocrinology from IGICH, where she was the topper of her batch.
Prior to her joining Aster hospitals, she has worked as Registrar at Apollo Cradle Hospitals, Bangalore and as a Senior Resident in Pediatrics, at Indira Gandhi Institute of Child Health.
She is passionate about her field and ensures that she is updated with the latest advances in the field.
Area of expertise
Paediatric diabetes

Disorders of growth- short stature

Early & Delayed puberty, PCOS in adolescents

Thyroid disorders

Obesity

Calcium & Bone disorders in children • Disorders of sex differentiation (DSD)- ambiguous

 

genitalia

Endocrine emergencies- DRA, Hypoglycemia,

 

Hypocalcemia

Endocrine oncology- endocrine management of

 

craniopharyngioma, thyroid & adrenal tumours.

Trained in Advanced Neonatal Resuscitation- NRP certificate holder

Trained in both BLS and PALS- IAP certificate course
Awards and recognitions
Prestigious Ratan Tata Scholarship in 2010- based on academic performance in first year of MBBS
MD Pediatrics- Gold medalist
Awarded with the Short-Term Sponsorship (STS) from the Indian Council of Medical Research for the study titled "Assessment of cultural beliefs and practices during the postnatal period in a coastal town of South India- a mixed method research study"
Paper Published:
Trushna T

,

Soodhana D

,

Nair S

,

Manjunatha, S

:

A simple screening test with a potential to detect diabetic cognitive impairment in the geriatric population: a preliminary study.

 Student Medical Journal of Colombo 2011; 3 (1): 17-21.

 Rao CR, Soodhana D, Ashok K, Niroop SB. Assessment of cultural beliefs and practices during the postnatal period in a coastal town of South India-A mixed method research study. GJMEDPH. 2014;3(5).

 Magazine R, Chogtu B, Soodhana D, Nair S, Trushna T. Use of Beta Blockers in Patients with Reactive Airway Disease and Concomitant Hypertension or Ischemic Heart Disease. Research Journal of Pharmaceutical, Biological and Chemical Sciences.2014, 5 (1):1065-1073

 Parikh YN, Kalathia MB, Soodhana D. Clinical profile of congenital limb anomalies in neonates. Int J Contemp Pediatr 2018; 5:299-303.

 

Pankhaniya RN, Parikh YN, Soodhana D

.

 

Study of acute viral hepatitis with special reference to fulminant hepatic failure. Int J Contemp Pediatr 2018; 5:1533-6

 Morbiwala S, Parikh Y, Hapani P, Kalathia M, Shah Z, Soodhana D. Clinical Profile and Outcome of Acute Poisoning in Children Less than 12 years of Age. IAIM, 2017; 4(1): 1-6.

 Shah Z, Soodhana D. Apert's Syndrome: rare variant of a common anomaly (Craniosynostosis): Int J Pediatr Res 2016;3(4):260-262.

 Shah Z, Soodhana D, Kalathia M, Parikh Y. Elizabethkingia meningoseptica: an emerging threat. Int J Contemp Pediatr 2017;4:1909-

 

Shah Z, Mohan D.S, Parikh Y. Rapidly progressing juvenile scleroderma: A case report. Int J Pediatr Res. 2018;5(6):339-342.

Soodhana Mohan D, Hebbal Nagarajappa V, Sathyanarayana S.O, Srinivas S.M, Palany R. Insulin Therapy "When Saviour Turns Hostile". Dubai Diabetes Endocrinol J 2022;28:74-77

Soodhana Mohan D, Hegde A, Hebbal Nagarajappa V, Palany R. Clinical Profile of Turner Syndrome- A Tertiary Care Experience. Dubai Diabetes Endocrinol J 2023