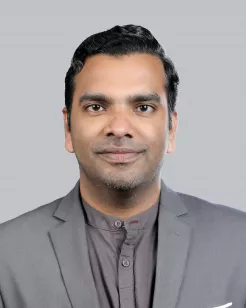 Dr. Jerin James
Consultant - Anaesthesiology
MBBS, DNB (Anaesthesiology)
Overview
Dr. Jerin James Working in department of Anaesthesiology Aster Mims Calicut for past 7 years. He did his MBBS from Government medical college, Calicut, and DNB (Anaesthesiology) from Baby Memorial Hospital, Calicut. Doctor also worked as specialist in Department of Anaesthesiology in Aster mims hospital Calicut..
Awards and recognitions
RESEARCH AND PUBLICATIONS
Have done a Thesis on Comparison of the effect of air and nitrous oxide used as a part of anaesthetic gas mixture in gynaecological laparoscopic surgeries on endotracheal tube cuff pressure alteration and incidence of postoperative sore throat which was accepted by National Board.
Other Similar Doctors