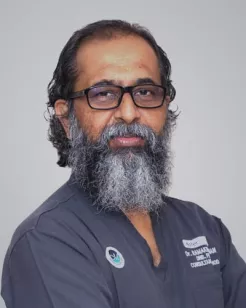 Overview
Completed graduation and post-graduate education from Calicut and Thiruvanandapuram Medical Colleges respectively. Having obtained formal training in Interventional Radiology from Sree Chithira Tirunal Institute of Medical Sciences and Technology (SCTIMST). In the late 90s, Dr. Ramakrishnan established the first Interventional Radiology (IR) management program in the region of Malabar. He is a founding member of ISVIR and has been actively involved in various academic programs including organising the All India South Zone ISVIR conference and State IRIA Annual Conference.
Over the last 15 years, he has mentored several post-graduate students in his capacity as a Post Graduate Teacher, National Board Examiner and guided his colleagues to establish independent IR practice. Dr. Ramakrishnan's current area of interest includes HPB and Body Interventions as well as GI Imaging.
Area of expertise
Microwave ablation of liver cancer
Portal system interventions

TIPS
BRTO/PARTO
Portal vein Embolization

Mesenteric angiogram and embolization
Microwave ablation of renal tumours

Embolisation treatment of renal AVM / Aneurysm

Microwave ablation of Osteoid Osteoma / Mets

Vertebroplasty
Embolization of Skeletal Tumours

Head and Neck Vascular interventions and treatment of Epistaxis
Uterine Artery Embolization and endovascular treatment of PPH

Balloon occlusive treatment for adherent Placenta Previa

Endovascular treatment for Haemoptysis

Microwave ablation of Lung Tumours

Embolisation treatment in trauma and in life-saving haemorrhage.