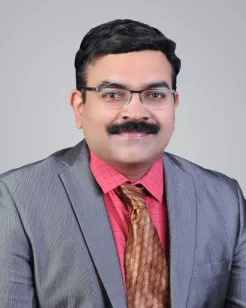 Dr. Ramakrishnan Vengelote
Senior Consultant
Overview
Dr. Ramakrishnan Vengelote is a highly skilled ENT, Head and Neck surgeon currently working as senior consultant in Aster MIMS.
His experience and knowledge have proved to be a huge asset to the hospital as he has performed more than 4000 surgeries.
Trained at the House Ear Institute in Los Angeles, USA, he has also participated in several workshops and conferences, and has always updated his knowledge in the field of ENT surgery.
Dr. Ramakrishnan is renowned for his caring and considerate nature and provides reassurance to all his patients, thereby aiding in their quick recovery.
Awards and recognitions
He is a member of several prestigious medical associations including Association of Otorhinolaryngologists of India and the Indian Medical Association.
His works on Hyalinizing clear cell carcinoma of the base of tongueand Nervus Laryngeus Recurrens-A Darwinian Geistesswissens Chaftenistic Sojourn have been published in International Journal of Oral and Maxillofacial Surgery and The Kerala Journal of ENT-Head & Neck surgery respectively.
He has been awarded the "Best Dissector" award at the 2018 Temporal bone dissection course and otology/live surgery workshop conducted by Dr M.P Manoj at MESIARC Institute Calicut in June 2018.
Other Similar Doctors