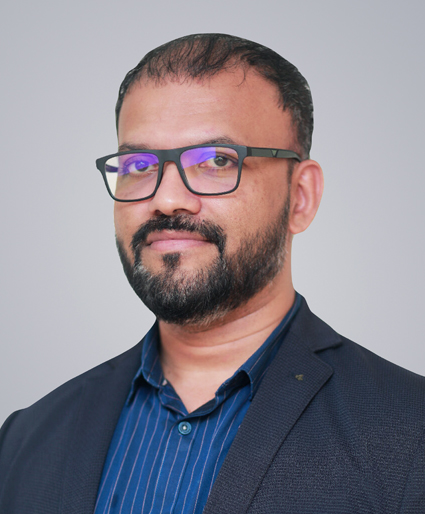 Dr. Seneesh Kumar V
Senior Consultant - Fetal Medicine
Overview
Dr. Seneesh Kumar V is a highly skilled medical professional specialized in the field of Maternal-Fetal Medicine and Fetal therapy. He completed his MBBS from Government Medical College Alappuzha, Kerala in 2004 and pursued his postgraduate studies and obtained MD in Obstetrics & Gynaecology in 2010 from Government medical college Baroda, Gujarat followed by DNB in Obstetrics & Gynaecology in 2012.
Driven by a passion for providing specialized care to pregnant women and their unborn babies, Dr. Seneesh underwent extensive training in Fetal Medicine from CIMAR Edappal Hospital in 2011-2012, under the mentorship of Dr. Bijoy Balakrishnan. This traineeship and six years of dedicated fetal medicine allowed him to gain practical experience and knowledge in diagnosing and managing fetal conditions.
To further enhance his expertise in Fetal Medicine, he pursued a Master in Maternal-Fetal Medicine from the University of Barcelona. He underwent training at Hospital Sant Joan de Deu and the Hospital Clinic in Barcelona from 2017 to 2019, under the guidance of Prof. Eduard Gratacos and Prof. France Figueras. Additionally, he obtained a postgraduate degree in Fetal Cardiology from the University of Barcelona, further specializing in the evaluation and management of fetal cardiac diseases.
Dr. Seneesh Kumar's commitment to continuous learning and his interest in the genetics aspect of Fetal Medicine led him to complete an MSc in Clinical Genetics from the Chinese University of Hong Kong. 
With his extensive training and experience in Fetal Medicine, Dr. Kumar specializes in the diagnosis, monitoring, and management of various fetal conditions. He offers a wide range of services, including prenatal screenings, fetal ultrasound evaluations, fetal echocardiography, and genetic counseling. He is also a leading provider of fetal therapy Services in Kerala.  His expertise enables him to provide accurate diagnosis and develop personalized treatment plans, optimizing the health and well-being of both mother and baby.
Other Similar Doctors