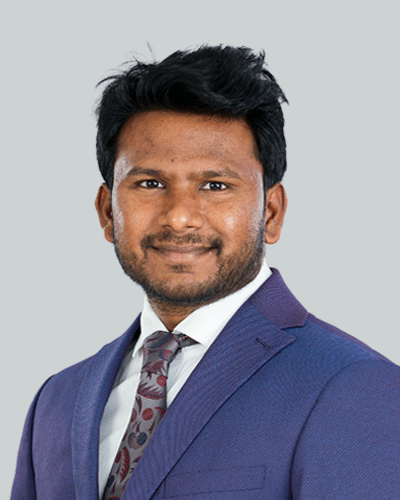 Dr. Darma Reddy Vijaykumar
Senior Specialist - Plastic Reconstructive & Aesthetic Surgery
MBBS, MS - General Surgery, MCh - Plastic Surgeroy Superspeciality
Overview
Dr. D. Vijay Kumar Reddy is a surgeon at Narayanadri Hospital and Research Institute, Tirupati. He completed his MBBS from 2007 to 2013 at Government Medical College, Anantapur. From 2014 to 2017, he completed his MS in General Surgery from Narayana Medical College, Nellore. From 2019 to 2022, he completed his super speciality M.Ch in Plastic Surgery from Andhra Medical College, Visakhapatnam.
Work experience
He worked as a senior resident at S.V. Medical College from August 2017 to October 2018.
Area of expertise
Burns, trauma: Facial bone fractures, facial & Scalp injuries, Hand leg ( head to toe trauma) Hand injuries, Condenital anomalies, Scar management, Tattoo removal wart removal, Unvanted mole removal, saggy ear lobule, Nose Connection, Abdominoplasty, liposuction all wounds.
Awards and recognitions
Best paper award of 2 states ( AP& Telangana ) in APRASCON 2022
1st prize in the poster in Andhra medical college Foundation day presentation in one conducted on occasion 2020 of Publications.