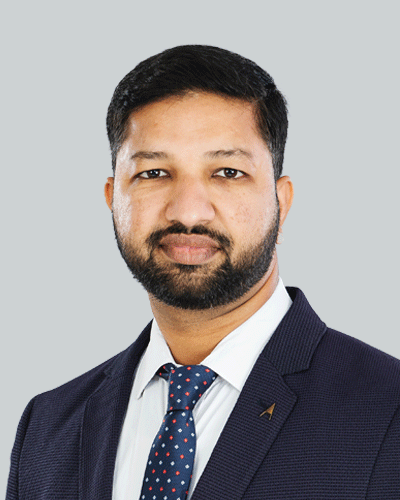 Dr. Khaja Naseeruddin V S
MBBS, MD - Radio Diagnosis
Overview
Dr. Khaja Naseeruddin V S is an MD in Radio Diagnosis and is currently working as a consultant Radiologist at Aster Narayanadri Hospital., Tirupathi. He completed his MBBS from 2005 to 2010 at Sri Venkateshwara Medical College, Tirupathi, under the affiliation of Dr. NTR University of Health Sciences, Vijayawada. He then went on to complete his MD in Radio-Diagnosis from Sri Venkateshwara Institute of Medical Sciences, Tirupathi, Andhra Pradesh, from 2013 to 2016.
Work experience
He began his career in August 2016 as a Senior Resident and worked till October 2017 at SVIMS, Tirupathi.
From May 2016 to August 2018, he worked as Consultant Radiologist at Krishna advanced C.T. and MRI, Tirupathi.
He has experience working as a Consultant Radiologist at Sasi Ganesha Scan Centre, Tirupathi, From May 2016 to August 2018.
Area of expertise
Diagnostic Imaging
X-ray
Ultrasound Computed tomography (C.T)
Magnetic resonance imaging (MRI)
Color Doppler
Mammography
Image-guided procedures
Ultrasound-guided procedures like FNAC, biopsy, PCD insertion, etc
CT-guided procedures like bopsy, FNAC, PCD insertion, PCCN, etc
EVLT, Laser & Ablation procedures.