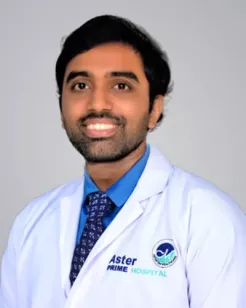 Dr. Siva Anoop Yella
Consultant Psychiatrist
Overview
Dr. Siva Anoop Yella MD Psychiatry, is a highly accomplished and dedicated healthcare professional with a comprehensive background in psychiatry, sexology, therapy, and life coaching. His extensive education and diverse certifications make him a trusted expert in the field of mental health and well-being.
Education and Certifications:
Dr. Siva Anoop Yella  completed his MD in Psychiatry at the prestigious Institute of Mental Health, Osmania Medical College in Hyderabad. He also holds an MBBS degree from the Chalmeda Anand Rao Institute of Medical Sciences, Karimnagar. In addition to these qualifications, he is an International Certified Addiction Professional, an Internationally Certified Life Coach, and an International Drug Demand Reduction Professional. Dr. Siva Anoop has also earned a Fellowship in Sexual Medicine and is a Fellow of the Indian Association of Private Psychiatry. He is also an Internationally Certified Addiction Professional
Professional Memberships:
He is an active member of various esteemed professional organizations, including the International Society of Substance Use Professionals, the Indian Psychiatry Society, the Indian Medical Association, and the Addiction Psychiatry Society of India. These affiliations highlight his commitment to staying current with the latest developments in his field.
Accolades and Awards:
He has received numerous awards and accolades for his outstanding contributions to the field of psychiatry and mental health. Notably, he was honored with the Best Research Paper Award for his presentations at international conferences on Neurosciences and Psychiatry in Vienna, Austria, as well as at the World Congress of Psychiatry in Thailand. He is the recipient of the Dr. B. Anand IMH alumni award, the Late Mavuluri Shiva Kumar Reddy Memorial award, the Late Dr. Seetharamayya and Krishnaleela award, and he was recognized as an exceptional speaker at the TSIC Telangana Innovation Inclusion Summit on ADHD in 2022.
Publications:
Dr. Siva Anoop Yella   has a significant body of work with 16 publications in international and national journals, reflecting his commitment to advancing knowledge in his field.
Comprehensive Treatment Services:
He offers a wide range of treatment services to address a variety of mental health and well-being concerns. These services include but are not limited to:
Schizophrenia
Bipolar disorder
Depression
Anxiety
Phobias
OCD (Obsessive-Compulsive Disorder)
Sexual disorders such as Erectile Dysfunction, Premature Ejaculation, and Female Sexual Dysfunction
Sleep disorders
Addiction disorders including Alcohol, Nicotine, Cannabis, Opioids, Inhalants, LSD, etc.
Childhood disorders like Intellectual Disability, Autism, ADHD, Behavioral problems in children, ODD (Oppositional Defiant Disorder), etc.
Gambling disorder
Gaming disorder
Mobile Phone Addiction
Therapies like CBT (Cognitive Behavioral Therapy) and DBT (Dialectical Behavior Therapy)
Motivational Enhancement Therapy
Exam stress management
Personality disorders
Dr. Siva Anoop Yella brings a wealth of knowledge and expertise to his practice, ensuring that his patients receive the highest quality care and support. He is committed to helping individuals achieve their mental health and well-being goals through a holistic and personalized approach.
Other Similar Doctors