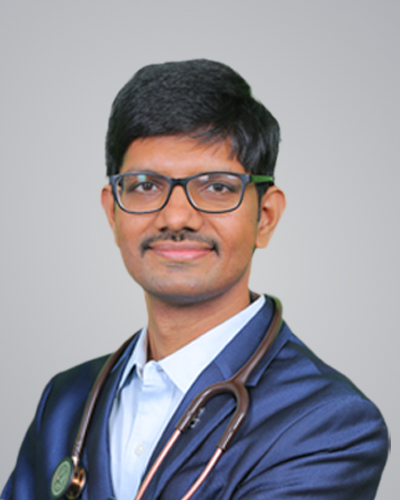 Dr. Bharath Siddarth Chigurupati
Consultant - CTVS
MBBS, MS(General Surgery) PGIMER Chandigarh, Mch CTVS (AIIMS, NEW DELHI)
Overview
Dr. Bharat SiddHarth Chigurupati is a consultant Cardiac Surgeon in Aster Ramesh Hospitals. He has 7 years of experience as Consultant Cardiac Surgeon in all Simple and Complex congenital surgeries (neonate and pediatric), Adult cardiac surgery including CABG on pump and off-pump, valve repairs and replacements.
Area of expertise
ASD Repair
PAPVC repair
TAPVC repair
PDA ligation
COA repair
TOF/DORV-Intracardiac Repair
ALCAPA repair
D-TGA surgery -ASO(Arterial Switch Operation)
DCRV repair
SAM Resection
Single ventricle physiology Surgeries (BD Glenn,Fontan procedure)
Preterm PDA ligation
Palliative procedures-shunts, PA band.
Awards and recognitions
Oral Presentation IACTSCON 2016-Aortopulmonary Window Results Of Repair Beyond Infancy.
Oral Presentation IACTSCON-2019 AATS Award Presentation Results Of Hemitruncus Surgery-15 Year Results And Follow Up.
Publications
Pleuropulmonary blastoma masquerading as pneumothorax in a patient with a ventricular septal defect. Bagaria, Vivek & Chigurupati, Bharat & Hote, Milind. July 2022, Asian Cardiovascular & Thoracic Annals (2022).30. 2184923221113297, DOI: 10.1177/02184923221113297.
Is left ventricular superior to right ventricular pacing in children with congenital or postoperative complete heart block?. Chigurupati, Bharat & Relan, Jay. February 2021,Interactive Cardiovascular and Thoracic Surgery 33(1):1-5, DOI:10.1093/icvts/ivab048
The use of an autologous right atrial free wall as a patch for closure of atrial septal defects. Talwar, Sachin & Chigurupati, Bharat & Choudhary, Shiv & Kumar, Arkalgud,June 2020, Journal of Cardiac Surgery 35(suppl 24), DOI:10.1111/jocs.14584
Unusual presentation and rupture of left sinus of Valsalva into mitral‐aortic intervalvular fibrosa. Talwar, Sachin & Gupta, Sanjoy & Jagia, Priya & Ojha, Vineeta & Sharma, Srikant & Chigurupati, Bharat & Gharde, Parag & Choudhary, Shiv, February 2020, Journal of Cardiac Surgery 35(14), DOI:10.1111/jocs.14449
An alternative technique for intracardiac exposure during transatrial repair of tetralogy of fallot. Talwar, Sachin & Chigurupati, Bharat & Sengupta, Sanjoy & Rajashekar, Palleti & Sharma, Srikant & Magoon, Rohan & Choudhary, Shiv, September 2019, Journal of Cardiac Surgery 34(4), DOI:10.1111/jocs.14259
Surgical repair for common arterial trunk with pulmonary dominance, hypoplasia of ascending aorta, and interrupted aortic arch. Talwar, Sachin & Chigurupati, Bharat & Gupta, Saurabh & Bhoje, Amolkumar & Choudhary, Shiv, September 2019, Annals of Pediatric Cardiology12(3):287-291, DOI:10.4103/apc.APC_147_18
An alternative technique for completion of the total cavopulmonary connection.Talwar, Sachin & Chigurupati, Bharat & Rajashekar, Palleti & Sengupta, Sanjoy & Sharma, Srikant & Gharde, Parag & Choudhary, Shiv & Airan, Balram.March 2019, Journal of Cardiac Surgery 34(4), DOI:10.1111/jocs.14037
Total Anomalous Pulmonary Venous Connection With an Intact Interatrial Septum. Talwar, Sachin & Chigurupati, Bharat & Gharde, Parag & Choudhary, Shiv, November 2018, The Annals of Thoracic Surgery107(6), DOI:10.1016/j.athoracsur.2018.10.031
Bulboventricular foramen enlargement: an alternative surgical approach. Talwar, Sachin & Chigurupati, Bharat & Singh, Sukhjeet & Choudhary, Shiv, October 2018, Indian Journal of Thoracic and Cardiovascular Surgery 35(2), DOI:10.1007/s12055-018-0751-y
Functionally univentricular heart with systemic venous anomalies: surgical palliation and pulmonary arterial reconstruction with a roll of left atrial appendage. Talwar, Sachin & Anderson, Robert & George, Niwin & Gupta, Saurabh & Chigurupati, Bharat & Bhoje, Amolkumar & Rajashekar, Palleti & Choudhary, Shiv. October 2018, Indian Journal of Thoracic and Cardiovascular Surgery 35(2) DOI:10.1007/s12055-018-0741-0
Ruptured sinus of Valsalva aneurysm with tetralogy of Fallot in an adult. Talwar, Sachin & Chigurupati, Bharat & Choudhary, Shiv.September 2018, Journal of Cardiac Surgery 33(10), DOI:10.1111/jocs.13803
Dual drainage total anomalous pulmonary venous connection: a rare mixed variant. Chigurupati, Bharat & Yadav, Mayank & Bhoje, Amol & Hote, Milind. April 2018, Asian Cardiovascular & Thoracic Annals26(4):021849231876977, DOI:10.1177/0218492318769777
One and half ventricle repair: rationale, indications, and results. Talwar, Sachin & Chigurupati, Bharat & Choudhary, Shiv & Airan, Balram. January 2018, Indian Journal of Thoracic and Cardiovascular Surgery 34(3):1-11, DOI:10.1007/s12055-017-0628-5
Arrhythmias in Children in Early Postoperative Period After Cardiac Surgery. Sahu, Manoj & Das, Anupam & Chigurupati, Bharat & Talwar, Sachin & Singh, Sarvesh & Abraham, Atul & Choudhury, Arin.January 2018, World Journal for Pediatric and Congenital Heart Surgery 9(1):38-46, DOI:10.1177/2150135117737687
Atrioventricular septal defect with anomalous systemic venous and pulmonary venous connection. Talwar, Sachin & Yadav, Mayank & Bhoje, Amolkumar & Chigurupati, Bharat & Das, Sambhunath & Balasubramaniam, Uma & Choudhary, Shiv. January 2018, Journal of the Practice of Cardiovascular Sciences 4(3):250, DOI:10.4103/jpcs.jpcs_64_18
Fungal Infective Endocarditis mimicking Atrial Myxoma: Transesophageal Echocardiography Assessment. Makhija, Neeti & Irpachi, Kalpna & Rajashekar, Palleti & Chigurupati, Bharat. December 2017, Journal of Perioperative Echocardiography 5(2):82-85, DOI:10.5005/jp-journals-10034-1076
Aortopulmonary window: Results of repair beyond infancy. Talwar, Sachin & Chigurupati, Bharat & Gupta, Saurabh & Choudhary, Shiv & Kothari, Shyam & Juneja, Rajnish & Saxena, Anita & Airan, Balram. June 2017, Interactive Cardiovascular and Thoracic Surgery 25(5), DOI:10.1093/icvts/ivx158
Hospital-acquired Infection: Prevalence and Outcome in Infants Undergoing Open Heart Surgery in the Present Era. Sahu, Manoj & Chigurupati, Bharat & Devagouru, Velayudham & Talwar, Sachin & Singh, Sarvesh & Chaudhary, Shiv & Airan, Balram. May 2017, Indian Journal of Critical Care Medicine 21(5):281, DOI:10.4103/ijccm.IJCCM_62_17
Incidence, microbiological profile of nosocomial infections, and their antibiotic resistance patterns in a high volume Cardiac Surgical Intensive Care Unit. Sahu, Manoj & Chigurupati, Bharat & Choudhury, Arin & Vishnubhatla, Sreenivas & Singh, Sarvesh & Menon, P Ramesh & Kapoor, Poonam & Talwar, Sachin & Choudhary, Shiv & Airan, Balram.April 2016, Annals of Cardiac Anaesthesia 19(2):281, DOI:10.4103/0971-9784.79625
Other Similar Doctors