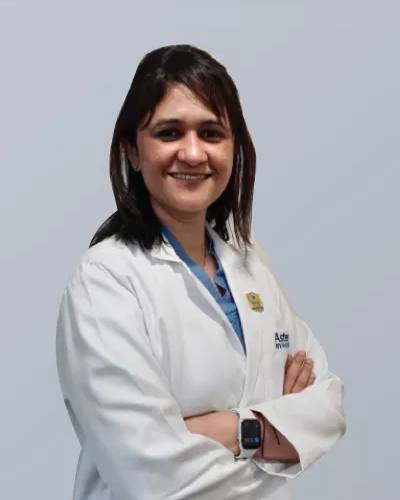 Dr. Gagan Brar
Consultant - Critical Care
Overview
Dr. Gagan Brar is a highly qualified & skilled intensivist with the aim to promote the culture of competent and compassionate care of the critically ill patients and to develop and maintain excellent rapport, co-ordination and communication with various colleagues, administrators and other hospital personnel to facilitate high quality patient centered care.
Area of expertise
With extensive experience as an intensivist, Dr Gagan is adept in physical evaluation, treatment plans and disease management of critically ill patients. Some of her areas of expertise are
Initial detailed clinical examination and assessment of critically ill patients along with decision making of their further therapeutic and diagnostic modalities after initial stabilisation following securing the airway (intubation) and securing central venous access, intra arterial catheterisation for monitoring .
Management of patients of acute and chronic renal failure with HD sheath insertions and facilitating emergency renal replacement therapy procedures. 
Other common procedures including abdominal and thoracic paracentesis, lumbar punctures when indicated and also bone marrow aspiration and biopsies and intercostal drainage insertions.
Point of care Critical care ultrasound and ECHO.
Intra abdominal pressure monitoring and intracranial pressure monitoring
Cardiac output monitoring and management of patients on pulmonary artery catheters and temporary and permanent pacemakers.
Monitoring and care of patients with prone ventilation and ECMO.
Audits of mortality and infection control team including audit of multi drug resistant cases along with CLABSI, CAUTI, VAP, HCAP audits.
Strictly maintaining the confidentiality of patients, families and colleagues.
Awards and recognitions
Won 2nd prize for oral presentation at the 19th annual congress, Criticare 2013, in Kolkata held during March 1-6, 2013
Presented a study on Real time ultrasound guided percutaneous tracheostomy - with and without bronchoscopic control.
Presented a study on assessment of left ventricular function in critically ill patients by mitral annular plane systolic excursion (MAPSE) at the 18th asia-pacific congress of critical care medicine & 20th annual conference of the indian society of critical care medicine (criticare 2014).
Platform presentation at 9th SAARC –AA conference held at Bangalore on 26th – 28th August 2011.
Presented a study on Ketamine Vs Fentanyl in Combination With Midazolam and Propofol for Outpatient Colonoscopy .
Chacko J, Gagan B, Ashok E, Radha M, Hemanth HV. Critically ill patients with 2009 H1N1 infection in an Indian ICU. Indian J Crit Care Med. 2010 Apr;14(2):77-82.
Chacko J, Gagan B, Ashok E, Radha M, Hemanth HV. Critically ill patients with 2009 H1N1 infection in an Indian ICU. Author's reply. Indian J Crit Care Med. 2011 Jan;15(1):60-1.
Chacko J, Brar G, Elangovan A, Moorthy R. Apical ballooning syndrome after attempted suicidal hanging. Indian J Crit Care Med. 2011 Jan;15(1):43-5.
Chacko J, Jahan N, Brar G, Moorthy R. Isolated inhalational injury-clinical course and outcomes in a multidisciplinary intensive care unit Indian J Crit Care Med. 2012 Apr;16(2):93-9.
Chacko J, Nikahat J, Gagan B, Umesh K, Ramanathan M. Real-time ultrasound-guided percutaneous dilatational tracheostomy. Intensive Care Med. 2012 May;38(5):920-1. · Chacko J, Brar G. Indian J Crit Care Med. 2014 May;18(5):301-9. doi: 10.4103/0972-5229.132492 Bedside Ultrasonography – Applications in Critical Care: Part I
Chacko J, Brar G. Indian J Crit Care Med. 2014 Jun;18(6):376-81. doi: 10.4103/0972-5229.133897. Review. Bedside Ultrasonography-Applications in Critical Care: Part II
Chacko J, Gagan B, Kumar U, Mundlapudi B. Real-time ultrasound guided percutaneous dilatational tracheostomy with and without bronchoscopic control: an observational study. Minerva Anestesiol. 2015 Feb;81(2):166-74
Other Similar Doctors