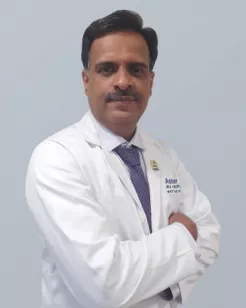 Dr. Girish SP
Lead Consultant - General & GI Surgery
MBBS, MS (General Surgery), MCh (Gastrointestinal Surgery/Liver transplant)
Overview
Dr. Girish SP is working as Lead Consultant - General & GI Surgery at Aster RV Hospital, Bangalore. He has completed his M.Ch in Gastrointestinal Surgery/Liver transplant from G B Pant Hospital, New Delhi (2003-2006) and MS in General Surgery (1996-1999). He has over 20 years of experience in Medical Practice, Laparoscopic Surgeries, Teaching, and Administration. He is an expert in the complete range of Surgical Gastroenterology including  Pancreatic and Hepatobiliary surgery as well as GI oncology and conducting  Advanced Laparoscopic Surgeries (Colorectal, Esophagectomies, and HPB  and gastric surgery) and Bariatric Surgery. He has expertise in the entire range of diagnostic and invasive Endoscopy – Upper and lowers GI and ERCP. He also has experience in teaching undergraduate and post-graduate students on general, vascular, and gastrointestinal surgery.
Previously he worked as a consultant surgical gastroenterologist at Manipal Hospital Whitefield and Visiting consultant at CMH, Peopletree Hospital Bangalore. He also worked as a consultant surgical gastroenterologist at Narayana Hospital,  Columbia Asia Hospital Whitefield Bangalore.
 
Area of expertise
Medical
Handling of casualty and dangerously ill In-Patients
Experience in History-taking, undertaking routine & diagnostic investigations, daily  ward rounds, and handling patient counseling sessions
Ensuring and monitoring the administration of appropriate drugs to patients. ▪ Managing the conduct of
Diagnostic and Therapeutic Endoscopic work.
Interfacing with specialists & multi-specialty units to ensure world-class standards of patient care. 
 
Surgery
Providing outpatient/inpatient surgical services including diagnostic evaluation,  patient treatment & recovery, and health maintenance programs.
Operating under the general guidelines of treatment policies and procedures to include intervention protocols and after-care plans.
Submitting information on care plans of patients, coordinating other services,  maintaining complete patient charts, and supervising billing of services provided.
Cooperating with peers and supportive staff to contribute to overall productivity and quality of the care of the team. 
 
Surgical Expertise
Conducting Open laparoscopic General and Gastrointestinal Surgeries  including:
Trauma Surgery
The entire range of advanced laparoscopic surgeries including GI  malignancies, pouch surgery, Bariatric, and hernia surgery
Advanced open and laparoscopic HPB surgeries including Hepatectomies and liver transplantation
The entire range of Pancreatic Surgery including Re-Pancreatic Surgery
Surgical GI oncology 
Other Similar Doctors