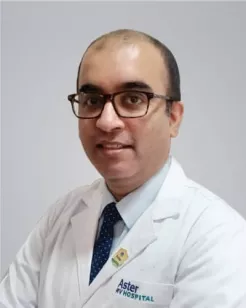 Dr. Manish Pai
Consultant - Neuro Surgery
MBBS, MRCS(Ed), MS (Surgery), MCh (Neurosurgery)
Overview
Dr. Manish Ganesh Pai is an experienced Neurosurgeon and specializes in performing brain and spine surgeries in children and adults. He has 20 years of experience after finishing medical college and more than 10 years of experience after completing Neurosurgical training. 
He finished his MBBS from Bangalore Medical College and Research Institute. He trained in General Surgery from Govt. Stanley Medical College and Hospital in Chennai. He went on to complete his Neurosurgery training from Sree Chitra Institute for Medical Sciences and Technology (SCTIMST), an institute of National Importance in Trivandrum. He has completed fellowship training in Pediatric Neurosurgery, Stereotactic & Functional Neurosurgery and Spine Surgery (Mayo Clinic) in the USA.
He is experienced in a wide range of surgeries and his area of focus is spine deformity surgery, pediatric brain tumors, adult brain tumors and epilepsy surgery.
Conditions treated and procedures performed:
Spine deformity – congenital scoliosis, adolescent idiopathic scoliosis, adult degenerative scoliosis, kyphotic deformity
Complex spine surgery
Spinal tumors
Tethered cord, meningomyelocele, lipomeningomyelocele
Craniosynostosis repair
Spasticity (Baclofen pump placement, Selective Dorsal Rhizotomy)
Epilepsy surgery – anterior temporal lobectomy, amygdalohippocampectomy, corpus callosotomy, hemispherectomy, hemispherotomy, Stereo EEG placement, Responsive neurostimulation (RNS), Vagus nerve stimulator (VNS) placement
Brain tumors in children and adults
Deep Brain Stimulation - Parkinson's disease, dystonia, essential tremors
Education 
MBBS - Bachelor of Medicine, Bachelor of Surgery (BMC, Bangalore) 
Master of Surgery (MS) in General Surgery (Stanley GH, Chennai)
Magister Chirurgiae (MCh) in Neurosurgery (Sree Chitra Institute, Trivandrum)
Fellow in Skull Base Neurosurgery (Sree Chitra Institute, Trivandrum)
Fellow in Minimally Invasive Skull Base Neurosurgery (Cornell, NY, USA)
Fellow in Pediatric Neurosurgery (Univ. of Colorado, USA)
Fellow in Stereotactic & Functional Neurosurgery (Univ. of Colorado, USA)
Fellow in Spine Surgery – adult & pediatric deformity (Mayo Clinic, USA)
Professional Memberships
Medical Council of India (MCI) 
Member of the Royal College of Surgeons of Edinburgh (MRCS)
Neurological Society of India (NSI) 
American Association of Neurological Surgeons (AANS) 

Publications
"Re-operative endoscopic endonasal surgery for residual or recurrent pituitary adenomas" published in Aug, 2017 in the Journal of Neurosurgery (JNS). Written in collaboration with Hazem Negm, Rafid Al-Mahfoudh, Manish Pai, Harminder Singh, S Dhandapani, Salomon Cohen, Vijay Anand, Theodore Schwartz
" Spinal Epidural Abscess Post Spinal Anesthesia: An Uncommon Complication of a Common Procedure" was published in the Asian Journal of Neurosurgery in Aug 2020 Dr. Manish Pai worked with Dr. Jeevesh Mallik & Dr. Vanita Motiani on this publication. 
"A case series of hemorrhagic neurological complications of sickle cell disease: Multiple faces of an underestimated problem" published in the Asian Journal of Transfusion Science in Nov 2021; by Dr. Sangita D Kamath and Dr. Manish Ganesh Pai
 
Other Similar Doctors